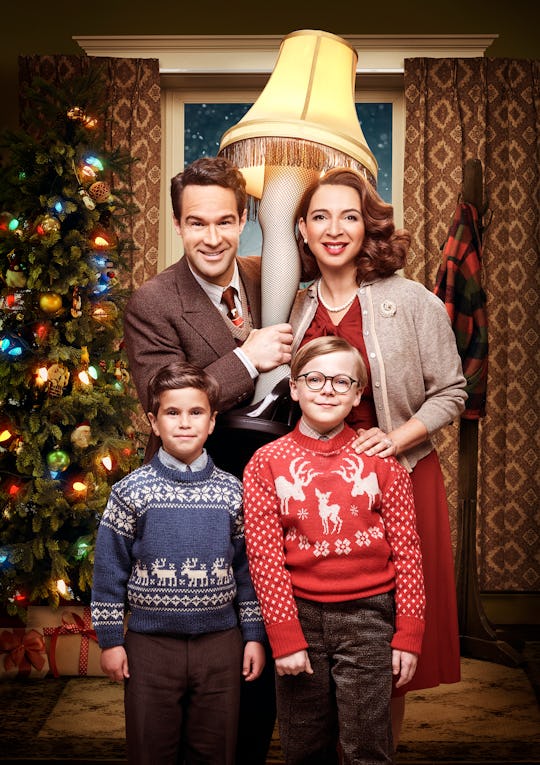 Tommy Garcia/FOX
The Songs In 'A Christmas Story Live!' Have Broadway Roots
For those unaware with the 1983 film A Christmas Story — first off, it's a classic and should be viewed by anyone who considers themselves Christmas movie connoisseurs. Secondly, it's not a musical. So, where did the songs in A Christmas Story Live! come from? They're written by the musical powerhouse team Benj Pasek and Justin Paul, who are now Tony and Academy Award nominated for their work on Dear Evan Hansen and La La Land, respectively. Before all that, though, Pasek and Paul actually made their Broadway debut in 2012: songwriting the numbers for A Christmas Story: The Musical.
Yes, there was a Broadway adaptation of A Christmas Story. The plot itself, about a boy named Ralphie who only wants a Red Ryder BB Gun for Christmas, came from a collection of short stories. Ralphie and his family appear in In God We Trust: All Others Pay Cash by Jean Shepherd. While there were other theatrical and film adaptations of his work, by far the most famous is the 1983 film. In 2012, Pasek and Paul took on the task of adding musical numbers into the mix. The show premiered in early November and closed the end of December 2012, so it was only open for the Christmas season; nonetheless, it made an impact (and Pasek and Paul went on to build a pretty impressive resumé).
Now, five years later, the songwriting duo return to build upon their Broadway debut. "There's a great saying: 'Musicals are never finished; they're just abandoned,'" Pasek told Playbill about A Christmas Story Live!. "At a certain point it's just pencils down; you have to open the show." The original Broadway show had 16 numbers, and the pair added onto it for FOX's show.
One, for example, features the minor character Mrs. Schwartz. She is a neighbor of Ralphie's family, and Pasek and Paul wanted to explore her character a little bit more. Therefore, they did what songwriters do: they wrote a musical number just for her. "Let's address it: The Schwartz family doesn't celebrate Christmas," Paul told Playbill. "We found a moment for Ralphie to go to the Schwartzs' house, and he's brought into this world of Hanukkah and their celebration."
The ever-evolving nature of work isn't new to Pasek and Paul. In fact, during A Christmas Story's Broadway run, they added songs before closing. One included "You'll Shoot Your Eye Out," a song from Ralphie's teacher, Miss Shields. In Sunday's live version, Miss Shields will be portrayed by Jane Krakowski. That's the number the duo chose to perform at the Tonys the year that the musical ran. Paul commented, "By the time it got to Broadway, it was a whole new show." At the time, The New York Times spoke favorably about the new adaptation. The review of A Christmas Story: The Musical said, "Mr. Pasek and Mr. Paul have provided a likable, perky score that duly translates all of the major episodes in the story into appropriate musical numbers."
Another addition to A Christmas Story Live! is a song Pasek and Paul wrote for Bebe Rexha. Rexha will open the show with a number called "Count on Christmas," which wasn't in the Broadway version and certainly not the original 1983 film. Paul said of the 2017 version of the production, "[It] really feels like closing the loop. This is now the definitive version of the show."
Pasek and Paul are even more renowned now than they were in 2012, so I'm confident A Christmas Story Live! will be a great experience. Of course, I'm still going to rewatch the 1983 version every year, but hearing the leg lamp and "you'll shoot your eye out" come to life through song is sure to be enjoyable.
Check out Romper's new video series, Romper's Doula Diaries:
Watch full episodes of Romper's Doula Diaries on Facebook Watch.