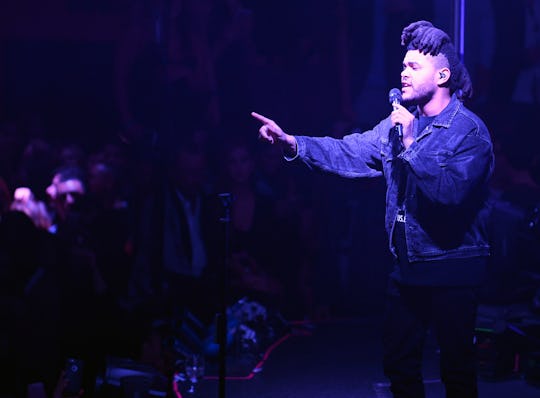 Bryan Steffy/Getty Images Entertainment
Where Did The Weeknd Get His Name? He Was Quite The Rebellious Teen
Abel Tesfaye, more commonly known as The Weeknd, is nominated for Grammy awards in seven categories this year, including Album of the Year and Record of the Year, according to People. Tesfaye grew up in an Ethiopian household speaking only Amharic with his mother and grandmother, according to Okayplayer, so his rise to pop music fame was pretty damn interesting. Just where did The Weeknd get his name? It came from a rebellious decision he made while young.
Just after dropping Kiss Land in September 2013, Tesfaye held a Reddit AMA (ask me anything) thread where fans could ask him questions. When a fan asked about his name, Tesfaye shared the story, according to MTV:
I left home when I was about 17 dropped out of high school and convinced Lamar [a member of his XO crew] to do the same lol. We grabbed our mattresses from our parents threw it in our friends shitty van and left one weekend and never came back home. It was gonna be the title of HOB [House of Balloons]. I hated my name at the time though so I tried it as a stage name. It sounded cool. I took out the "e" because there was already a Canadian band named the weekend (copyright issues).
Tesfaye later said that Amharic was the first language that he learned and that his grandmother raised him on it until he was 5 years old. At some point, he moved to Canada with his family and spent the rest of his teen years there. When he started making music, Tesfaye said he purposefully stayed out of the spotlight and refused interview requests, according to Details:
We live in an era when everything is so excessive, I think it's refreshing for everybody to be like, 'Who the fuck is this guy?' I think that's why my career is going to be so long: Because I haven't given people everything. ... I thought I'd be a punk star—grow my hair out, acne on my face, super-f*cking-skinny. I was looking at artists like Iggy Pop and the Ramones, or Afropunk. But you evolve and realize your potential. And then it's like, 'F*ck yeah. Let's go.'
In the same Details interview, Tesfaye also explained the thinking behind his hair. He said it was inspired by artists Jean-Michel Basquiat, and that he has been growing it out for four years. He only occasionally shampoos it, and told Details he was hell-bent on keeping it even though it gives him neck pain when he sleeps. (That's a lot of dedication for hair.)
So, the man behind the name is definitely interesting, and he doesn't plan on cutting his hair or changing his style, generally, anytime soon.