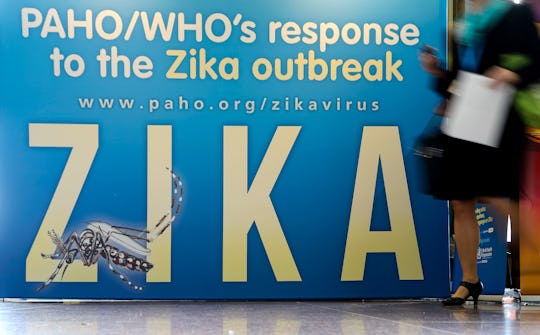 FABRICE COFFRINI/AFP/Getty Images
Where Did Zika Start? Scientists Identified The First Human Infection Over 6 Decades Ago
Zika infections in Brazil sparked an epidemic with international implications, but where did Zika start? It turns out that the disease was discovered decades ago, but it wasn't until the last few years that Zika began to rapidly spread. Now, Western countries face an enemy they've never encountered before.
Researchers first discovered Zika in 1947, according to The New York Times; the disease is named for the Ugandan forest scientists found it in. Though Zika samples initially came from a rhesus monkey, the World Health Organization reported that the Aedes africanus mosquito tested positive for it a year later. Human cases weren't identified until 1952 in Africa. Over the next several decades, cases began to pop up in Asia; even so, researchers documented just 14 cases into the 21st century. The first real outbreak occurred in the Federated States of Micronesia in 2007, spreading throughout the Pacific islands in 2013 and 2014. In 2015, Brazil reported thousands of infections with Zika-like symptoms, but the Zika outbreak wasn't recognized as a Public Health Emergency of International Concern until February 2016.
Because Zika only recently developed into a widespread problem, scientists are just beginning to work on vaccine development. President Obama asked the United States to chip in $1.8 billion to support the research, but CNN reported that people can't expect a large-scale Zika vaccine trial for at least 18 months. The government put measures in place to ensure that vaccine tests are as safe as possible for all involved, but that can mean years between the beginning of the epidemic and the distribution of a widely-available medical solution. This is of particular concern because of Zika's rapid spread: the World Health Organization expects three million or four million more cases in the Americas in 2016.
There are steps individuals can take to avoid a Zika infection. It's critical for people in affected areas to avoid mosquito bites, according to the Centers for Disease Control and Prevention (CDC); precautions can include anything from wearing mosquito repellent (not always safe for kids) to sleeping with a bed net. Even those who don't live in the hardest-hit areas of the epidemic are still advised to be careful when traveling to affected locations. Anyone who believes they may have a Zika infection is advised to seek medical help and do what they can to avoid infecting others (including preventing mosquito bites and, for men, stopping transmission of Zika through semen).
Though Zika's spread started slowly, it's developed into a global threat. As scientists work to develop a vaccine, it's important to do everything possible to prevent growth of the epidemic.