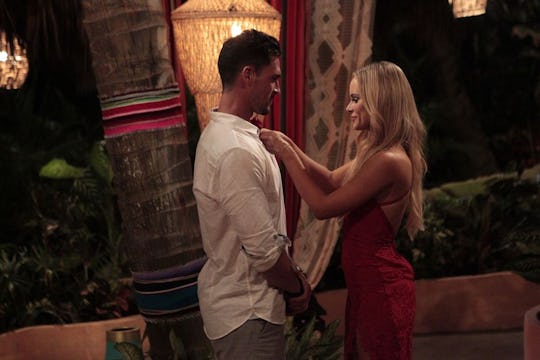 Rick Rowell/ABC
Where Do Amanda & Josh Live? The 'Bachelor In Paradise' Stars Moved To Her Hometown
The cat is pretty much entirely out of the bag: Amanda Stanton and Josh Murray have confirmed that they are still a couple after Bachelor in Paradise and that they've moved in together, too. They're still keeping quiet when it comes to whether or not they're engaged, but that seems like a foregone conclusion at this point. But moving in together, a big decision for any couple, was also a big undertaking because Josh and Amanda lived in different states. Uprooting your entire life to move across country for someone else is definitely a sign that things are serious. But where do Amanda and Josh live after Bachelor in Paradise?
Josh is from Atlanta, Georgia and Amanda is from California, so either way it was going to be a big adjustment. However, Amanda may have had a pretty important reason for staying where she was: with two young daughters, a big move isn't always ideal, especially if the rest of their family remained in California. So Josh has moved to Amanda's home state and settled in with her and her kids in Orange County. However, they're also allegedly planning to purchase a house in Atlanta, and that way they'd be able to have the best of both worlds.
It looks like Josh and Amanda have been making the most of their new life in its new location. They were spotted out with Amanda's two daughters at the Orange County Fair, and have been seen shopping at Target: all in all, it's pretty normal couple stuff. Although usually the rule with BiP is to keep your relationship under wraps until the show finishes airing, Amanda's kids were reportedly going a little stir-crazy being stuck inside, which is why Amanda and Josh decided to take them along to the fair.
After breaking up with Andi Dorfman, Josh told People that he was "a big family guy" who still wanted to get married and have children, and it seems like he's found exactly what he's looking for with Amanda. Though Amanda has said that she's not quite ready for another marriage and more kids yet, that is something she wants eventually. Josh and Amanda appear to be on the same page, but only time will tell if it works out the way they both seem to want.
Maybe after the expected wedding special Amanda can land herself a spot on The Real Housewives of Orange County. She's got the right location, the right hair, and the perfect amount of reality TV notoriety to fit right in.