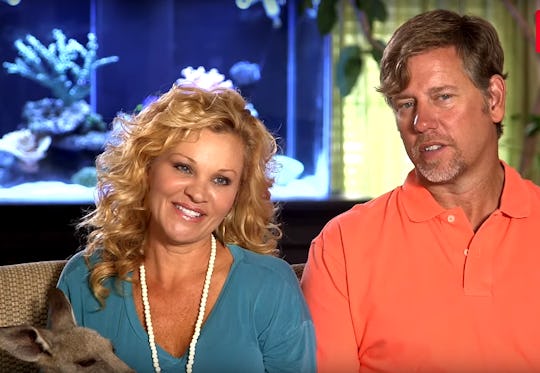 TLC/Youtube
This Is Where The Abrams' Family Lives With Their 80+ Exotic Animals
Out of all the reality series on TV right now, the wildest one is TLC's newest addition, Our WIld Life. The series follows the Abrams, a family who lives alongside their 85 various animals. With all their extremely exotic pets, including a camel, a zebra, and some kangaroos, the Abrams must have a lot of space and pretty relaxed regulations. So where do Bobbie Jo and Jerry Abrams live, and how do they manage to keep all those animals?
A report by The News and Observer revealed that the Abrams family lives right outside Pinetops, North Carolina, on a 16 acre estate about 70 miles east of Raleigh. The family has their own petting zoo on their property, called It's A Zoo Life, where they allow visitors to come learn about the animals and get a chance to interact with them hands on. The new TLC series will follow the Bobbie Jo and Jerry Abrams, their children, and their son Jaxon's nanny, Naa Naa. Of course, you'll see a lot of the animals too, including a sloth, a lemur, a three legged turtle, a wallaby, some llamas, a profanity chirping umbrella cockatoo, a goat, a gray wolf, and some adorable baby pigs.
So how did the Abrams end up with so many exotic animals in the first place? Bobbie Jo told The News and Observer that it all started when they added a petting zoo with ducks to her husband Jerry's catering business as a branch of their entertainment department. She said she had so much fun with the ducks, that she began researching other animals, and eventually was licensed by the USDA. Bobbie Jo then started acquiring animals from all over the country, and many of them were special needs animals. She told the news outlet:
"I got on the radar for rescues, and that was a huge blessing because when that happened, then I started getting calls and I got my baby camel, I got a couple of kangaroos that way. With exotic breeders, if the animal isn't perfect, that's the first one they get rid of. And some of them have special needs — and they're amazing."
As her animal family grew, Bobbie Jo began building facilities on her property to accommodate them, however, some of them occasionally live in the house with the family. She says while the show is edited to look like she has the animals in the house all the time, in reality it's mostly just the babies. She said that if people think she's just hoarding animals in her home in an unclean and unhygienic environment, they should know that it's not like that at all. In the interview she explained:
"That's some of the stuff that's over the top. Like the goat doesn't come in (except when he was a baby, and then he wore diapers). The pigs are potty-trained. A lot of them do start out as babies in the house. As they get older and they are not potty-trained, trust me, they get evicted. But in all honestly they do start out in the house as babies — and there's a lot of cleaning."
After watching the trailers, I think one of the breakout stars of the show is going to be their nanny. Naa Naa, who is very vocal about her dislike of all the animals in the house, actually won the lottery for $200,000, but loves their son Jaxon so much that she never had the heart to quit. When asked about Naa Naa, Bobbie Jo told The News and Observer:
"Naa Naa is like the real Madea. She is truly like that. We sneak and hide animals around her. I pay her to tell me what to do. She's like our mama."
If you love animals, or are just curious to see how the Abrams pull of this eccentric lifestyle, you can catch all new episodes of the Our Wild Life on Tuesday nights, at 10 p.m. Eastern Time on TLC.