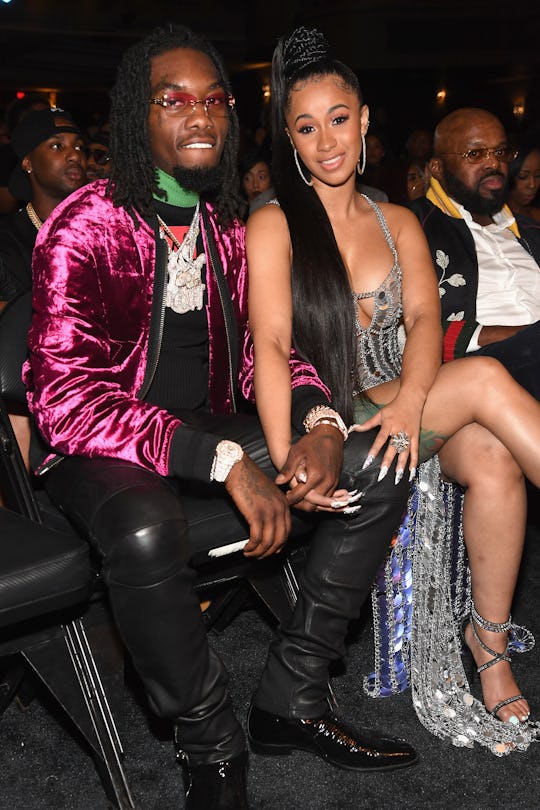 Paras Griffin/Getty Images Entertainment/Getty Images
Where Do Cardi B & Offset Live? Here's Where They Might End Up Post-Baby
Cardi B is a rapper, social media personality, and former reality star. Offset is a rapper and member of the hip hop group Migos. And together, they're a couple that often makes headlines. The two of them are currently preparing for new roles as parents — Cardi B is currently pregnant with her first child — and it seems like everyone is interested in knowing more about the couple. Like, where are they from? And where do Cardi B and Offset live? The answer to that one is a little unclear, although Cardi B has spoken before about where their family will probably live once she and Offset welcome their baby to the world.
On an episode of Saturday Night Live in April, Cardi B confirmed her pregnancy after days of speculation, according to Brides. She reportedly revealed her baby bump during a performance, where she was wearing a form-fitting gown that clearly showed off her bump. After she finished performing "Be Careful" onstage, she went backstage and said "I'm finally free!," according to Pitchfork. I guess she was more than ready to share her happy news with her fans and the world.
Cardi B was born in 1992 and grew up in the Bronx in New York City, according to Biography. She started appearing on VH1's reality show Love & Hip Hop: New York in 2015, but left the show in 2017 to pursue music, which has been her main gig ever since. She still speaks of the Bronx fondly, and has obviously stuck around New York for most of her life so far, aside from when she's been off performing somewhere.
It's not entirely clear where both Cardi B and Offset spend their days now, but Cardi B told Billboard in April that her job is in New York, so that seems to be her home base. Offset, on the other hand, is from Lawrenceville, Georgia, a suburb of Atlanta. And that's where he wants to raise their child, according to Cardi B. She told Billboard:
Offset's never comfortable in New York. He loves down south. He told me to move in with him, in Atlanta. I stayed in his house a couple of times, but it's so hard to live there. He decided, though, that we're going to build a house in Atlanta, and that's the house that we're gonna raise our kids in. But my job is in New York, always, so I can barely spend time in Atlanta.
So it sounds like Cardi B and Offset are at least planning on ending up down south together to raise their new baby. But I guess anything could happen, especially if Cardi B continues to be so popular and really has to stick around New York City to keep her career going so strong.
On SiriusXM's The Howard Stern Show in May, Cardi B confirmed that she is having a baby girl, according to People. She also referred to the baby as a "she" during this year's Met Gala, and her sister, social media star Hennessy Carolina, reportedly once wrote on Instagram, according to People:
NOW that baby Cardi is coming is like it's coming true! I'm going to be able to hold baby you and give her all the kisses and hugs!
Sounds like that baby has a lot of love waiting for her out here in the world. And if what Cardi B told Billboard is true, she's going to be raised in Atlanta, near where her dad grew up. I'm not 100 percent sure Atlanta is where Cardi B and Offset live now, but Cardi B is only a few weeks out from her expected due date, so if they want to be down there before the baby's born, they'd better already be there, or be making plans to move there — fast.