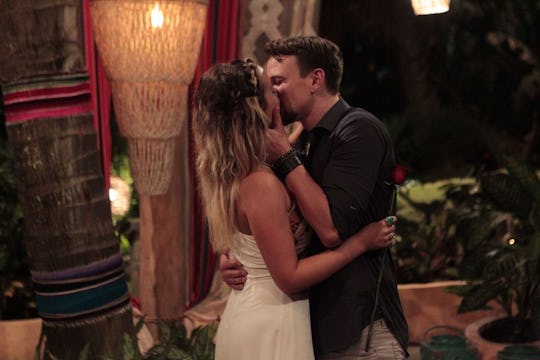 Rick Rowell/ABC
Where Do Carly & Evan Live After 'Bachelor In Paradise'? Distance Isn't A Problem
Carly and Evan spent the second to last episode of Bachelor in Paradise showing just how far they've come since their relationship started – which was, of course, just a few weeks ago. In addition to some Weird Stuff (which has proven to be their trademark) that involved rolling around covered in paint on some canvases, Carly and Evan sat down for a civilized dinner and confessed just how in love they are. Despite the shaky start of their relationship, they seem fairly happy now. It would take a pretty shocking twist for them to end up not engaged at the end of the show, so it seems fair to assume that they're still together. Combining their separate lives will be a little bit easier than some of the other couples from the show because they already live near each other. But where do Carly and Evan live after Bachelor in Paradise?
Both BiP contestants are natives of Nashville, Tennessee. Though finding love in paradise is half the battle, the aftermath is always a little questionable, especially if they live in totally opposite places (like, for example, Jen and Nick). But because Carly and Evan live in the same city, it will presumably have been a lot easier for the two of them to stay in touch and keep things going.
According to Carly, that lack of distance was really important to her. "I knew he was from Nashville, and that's a huge thing for me," she told Glamour before filming began for the finale. "We live seven minutes away from each other. It's out of control." Living so close together – and potentially having moved in together already – means there's one less hurdle to jump as they navigate being together outside of the show. Though in Carly's interview with Glamour, it sounded like she wasn't worried about much; instead, she seemed pretty excited to get started on the next phase of things with Evan.
I'm not quite sure what I'm hoping [for] because I don't want to set myself up with expectations and be disappointed, but I'm so excited about him having kids. I can't wait. I know he's dated people in the past that have said, "Oh, you're a dad? I'm not into that." I'm so into that. I'm 30. I want kids; he wants more kids. We've already discussed that. He has three boys—ages 14, 11, and 8. We've talked about having kids. He wants more, and I'm game. We're just going to be maybe one big happy family, and I'm so excited. I can't even contain my excitement for that.
Starting a family might be a little bit smoother for Carly and Evan considering they only live seven minutes apart. Of course by now it's probably a lot less; if they've already moved in together, they've likely got that travel time down to less than a minute.