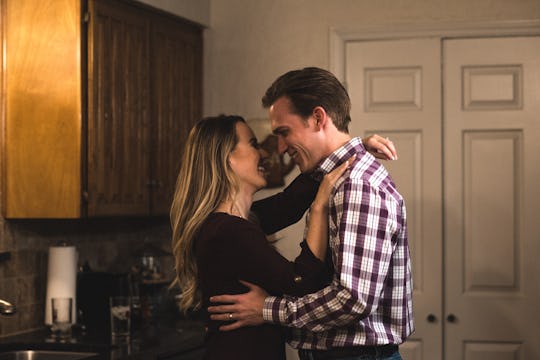 Valerie Chiang/Lifetime
Danielle & Bobby Are From The Same City On 'Married At First Sight'
On Married at First Sight, it looked like Danielle Bergman and Bobby Dodd had the potential to make it work in the longterm. They seemed to get along well with each other, though their relationship wasn't without its bumps in the road. If they have a real chance at making it work, then choosing the right location for their home is an important decision to make. So where do Danielle and Bobby live now?
Danielle and Bobby were both living in Dallas, Texas when the show began, which was one more thing that they had in common. Danielle was in software sales, and Bobby was a project manager. With their lives rooted firmly in Dallas, it would make sense for them to stay there even after their marriage. They both work there, and Bobby's entire family is in Texas as well. But it's difficult to confirm because neither of them have any social media accounts, which usually provide helpful hints about what the show's contestants are doing after filming. Instagram or Twitter would be the most up-to-date way to figure out where Danielle and Bobby are living; without social media to rely on, one can only assume that they've both stuck to their hometown.
It seems like the decision to eschew social media was a personal one. In an appearance on Married at First Sight: Unfiltered, Danielle explained that the often intense criticism online led Bobby to delete his Twitter account. According to her, Bobby was "real sensitive" and took any harsh commentary very personally. "Yeah, he thinks about things a lot," she said. "And so if he reads something nasty, it's harder for him to brush it off." She continued:
A lot of people have a lot of opinions about whether or not any of us are going to work or not, but I think it is cool to see some of the people that defend you, that you don't even know.
Though they appreciated all the support from strangers on social media, it was difficult for Bobby to dismiss the negativity. That seems to be why neither of them has any active, easy to find accounts, making it a little more difficult to pinpoint where they're living now.
On Married at First Sight, it seemed like Danielle and Bobby would be one of the couples who stayed together even after the show ended. They didn't fight often and were able to compromise when they did disagree, as they did when Bobby expressed a desire for Danielle to be a stay at home mom while she wanted to keep her options open about working. They also hit a roadblock over Danielle not being as effusive with her feelings as Bobby, with him expressing concern over the fact that she hadn't yet said she loved him.
If Danielle and Bobby decide to stay together, then there seems to be a good chance that they'll continue to live in Dallas because they already do. But if they break up, who knows? Not running into your ex at the grocery store might be appealing enough to inspire a move.