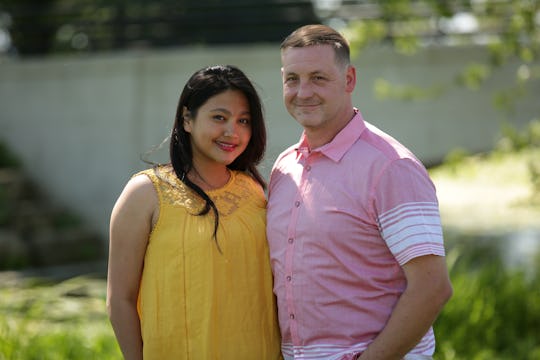 Courtesy of TLC
The Scoop On '90 Day Fiance' Couple Eric & Leida's Current Living Situation
Season 6 of 90 Day Fiancé is only two episodes deep, but viewers already want to know what's currently going on with the couples in real life. The show was shot months ago, after all, so the couples could very well be in entirely different places right now than they are in on the show. For example, fans may be wondering: Where do 90 Day Fiancé's Eric and Leida live now? The topic has been the source of a lot of tension on the show thus far.
Eric, 40, is a divorced father-of-three, who lives in Baraboo, Wisconsin and works as an avionics technician. He met Leida, a 29-year-old teacher, med school graduate, former model, and mom to a 5-year-old son from Jakarta, Indonesia after she responded to his online ad. "I posted an ad on an international website," Eric explains on the show. "I said, divorced male in America, looking to start over in life, with somebody who wanted to come to the United States and share a life with me here. And one of the first to respond to my ad was Leida."
Even though Eric was immediately infatuated by Leida, things began to falter as soon as she saw where she'd be living in America — his messy, tiny apartment.
"What the f*ck is this?" Leida says on 90 Day Fiancé when walking into Eric's apartment. "Why don't you just get maid?" she asks him incredulously. "We're not getting a maid," Eric responds. In another clip from the show, she is heard saying, "If Eric doesn't have a lot of money, that would make me go back to Indonesia."
"Leida comes from a wealthy background, so I'm concerned the life I have here isn't enough for her," Eric tells the cameras. "I'm a little concerned about her ability to adapt to this… lower lifestyle," he also says in the show.
Since the living arrangement was such a source of contention, it would be super interesting to know if the couple was still living in Eric's Wisconsin apartment (and if so, whether or not he's cleaned it yet). Unfortunately, it's unclear if they have moved or not, but according to Leida's Instagram bio, she is a "Wisconsin Master Chief & Yen," implying that she is still living in the Badger State. Additionally, she posted a photo of herself and her 5-year-old son Allessandro on Oct. 5. "We live in Wisconsin. We're cheese heads!" she wrote alongside the shot.
Editor's Note: The Instagram post has since been deleted.
Not to mention, Both Eric and Leida are pretty active on social media, making it clear that their relationship is still going strong. They both often post 90 Day Fiancé clips and memes, photos of themselves at cosplay events, and selfies of the two of them. And luckily for Leida, she has also managed to get a couple breaks from that Wisconsin life — in her Instagram stories, she has posted photos of her and Eric on vacation in Los Angeles, Denver, and Tokyo.
It looks like Eric and Leida are living it up together in Wisconsin, but it's a bummer that social media doesn't provide any clues as to whether they've gotten a new place. Hopefully by the end of this season of 90 Day Fiancé, fans have some answers.