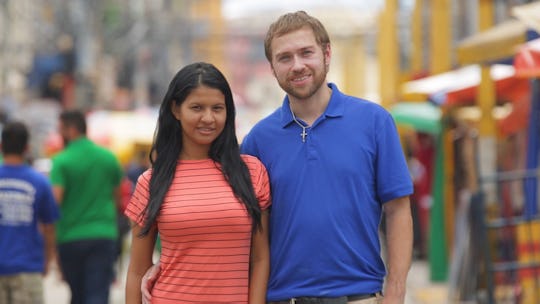 TLC
Here's What We Know About Paul & Karine's Romance On '90 Day Fiancé'
The whole point of Before the 90 Days is to see if couples who met online despite being abroad truly have an in-person connection — before the K-1 visa process begins. Seeing as they're from vastly different places, where do Paul and Karine live after 90 Day Fiancé: Before the 90 Days? Social media provides some hints.
Karine's Instagram is now private, but looking at Paul's Instagram, however, may give a clue. Most of the photos are in Brazil, Karine's home country. Then again, that doesn't necessarily mean they're still there; perhaps Paul's just uploading photos as the episodes of the season airs. Regardless, they haven't confirmed neither where they are living for sure nor the status of their relationship at this point.
Then again, this is 90 Day Fiancé, and the point of the K-1 visa is so the fiancé of the American is able to enter the United States as well. It's totally possible that Paul and Karine went to the United States — say, to meet Paul's family in Louisville — and returned to Brazil. Or perhaps they haven't left Brazil since the season! Fans will have to watch to see how this all unfolds with them, but Paul's social media presence certainly raises a few questions beyond where they're living. For example, Paul posted a few photos of Karine in wedding dresses, which corresponds to her dress fitting in the last episode. Did they actually go through with the wedding?
Again, that's a question that will be answered later this season, but at the current state of their relationship, Paul and Karine seem a little strained together. For one thing, they are still having trouble communicating. To have their serious conversations (such as Paul believing Karine is not ready for a baby, or Karine feeling like Paul is controlling), they have to go through a translator — either a person or an app. I don't know if I'd be able to marry someone if I couldn't speak my mind to face-to-face.
It seems that Paul feels the same way about communication. In an interview with the Courier-Journal, Paul said he's working on his Portuguese — and Karine is working on her English. The Journal mentioned that he's working with a private Portuguese tutor in his downtime in Louisville (his hometown), so perhaps he is dividing his time between the states and Brazil right now. "I learned the hard way and was barely able to communicate well. Knowing just the basics did not help me much," Paul said about not knowing Karine's language well. "Charades and attempting your own version of sign language is also not always a great idea."
In fact, Paul's biggest relationship advice is to learn the language of your partner. "Uninstall the games on your phone and use that time to learn a new language or end up like me, looking like a dummy on national television," he said. I would say that's a no-brainer, but from watching Before the 90 Days I'm obviously wrong with that.
In Season 1 of Before the 90 Days, Paul was hesitant about traveling to Brazil, specifically the bugs and potential disease. He told the Journal, however, that those fears have seen subsided. "The health threats are not as serious as I had believed before traveling there for the first time," he said. "In fact, mosquitoes are far worse in Kentucky for the most part. I did find that the one outfit I had treated by Insect Shield was the only one that kept 100 percent of the mosquitoes off so I wore it almost all the time I was in Brazil and never washed it."
The Journal made it seem like Paul is back in Kentucky...but is he really? Is Karine with him? Are they actually getting hitched, or have they broken up? Fans will have all their questions answered as this season of Before the 90 Days continues.