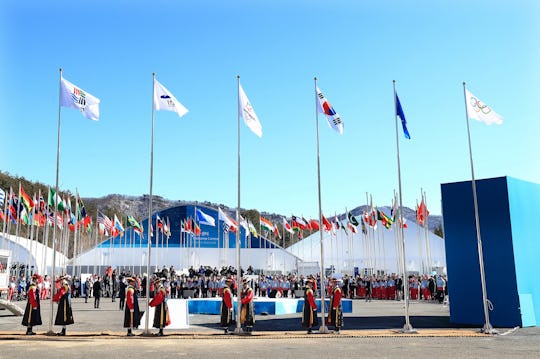 Handout/Getty Images Sport/Getty Images
Take A Look Inside The Olympic Athletes Digs While In PyeongChang
The life of an Olympic athlete can be pretty sweet. Not only does the world get to obsess over you and your sport for two weeks straight, but you're representing your country, in a different country and thats pretty awesome. The Winter Olympics in PyeongChang, South Korea, has brought almost 3,000 athletes to South Korea to compete for their country. But if you were wondering where the Olympic athletes stay in PyeongChang, note that they aren't necessarily staying in a Four Seasons Hotel, but it's just as impressive.
Every two years, those thousands of athletes representing their own countries come together in a different country each time to compete for two weeks in the Olympics. And it isn't a short stay — not only do the athletes have to compete in the host country, they have to practice, attend preliminary events, and appear in the opening and closing ceremonies. Needless to say, it's a pretty crazy two weeks and can get tiring, pretty fast — so it's no wonder that the athletes need a place to crash their heads.
During this year's Winter Olympics, the athletes will stay in one of two Olympic Villages in PyeongChang, according to E! News — one that is located in the mountains for athletes, their coaches, and team officials who compete in "snow events" like skiing — and another village located in the nearby town of Gangneun that hosts athletes competing in "arena sports" like hockey and ice skating. But, according to USA Today, it isn't a requirement for athletes to stay in the village.
The athletes living arrangements are grouped together by their country, and teammates, especially those competing in the same event, often live together for the two weeks they're competing, according to E! News. In the Olympic Village Plaza, where the buildings are located, according to USA Today, athletes can shop, go to a bank, post office, and get their hair cut at a beauty salon.
It's basically like living in a super nice dorm your freshman year of college but everyone is super talented and everyone on the other floors are competing against you.
If you're super curious about what the inside of the Olympic Village looks like, Aimee Fuller, a snowboarder competing for Great Britain, vlogged a tour of her room and uploaded the video to YouTube. In the video, you can see that the rooms are pretty spacious and bear a lot of team spirit. There's even a kitchen fitted with South Korean snacks.
But because of this college-like atmosphere in the Olympic Village, the athletes tend to have a lot of fun when they're not competing in their event during the games. This involves them being allowed to eat free, unlimited McDonalds, according to Eater, and having sex (the entire Olympic Village was supplied with 100,000 condoms — the most of all time, according to CNN) because athletes get to have their fair share of fun when the games are said and done, too. Once the games are done, according to ESPN, the village tends to break out into a huge party. Carrie Sheinberg, alpine skiier at the 1994 Olympics, told ESPN that the Olympic Village is "just a magical, fairy-tale place, like Alice in Wonderland, where everything is possible." Now that does not sound like a bad place to be.
But the Olympic Village isn't a fairytale to some. During the 2016 Summer Olympics in Rio de Janeiro, Brazil, electric and plumbing issues displaced 700 athletes from Australia for two days, according to People. And some athletes choose to avoid it altogether. During the Summer Olympics in Rio, the men's and women's basketball teams from the United States chose to stay on a luxury cruise ship docked in Rio's harbor, according to People — and this year, the United States Alpine Ski team will be staying off site somewhere not in the Olympic Village, according to E! News.
But who wouldn't want to stay in the Olympic Village? The opportunity to connect and hang out with people from all over the world, free of charge sounds pretty cool to me.