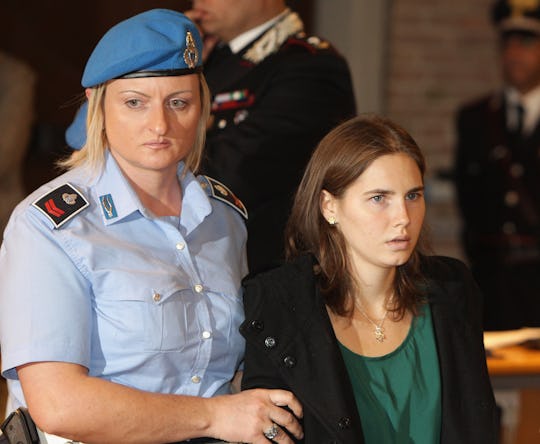 Oli Scarff/Getty Images News/Getty Images
Where Does Amanda Knox Live Now? She Relocated Back Home After Italy
Amanda Knox was an exchange student in Perugia, Italy when the murder of her roommate Meredith Kercher changed the course of her life. There was no way she could have anticipated being in Italy for four years while her trial dragged on and and on and she served time for a crime she was ultimately acquitted of. If her conviction hadn't been overturned, then she could have spent 26 years in an Italian prison. Knox left Italy as soon as she was able to and returned home, but where is home, exactly? Where does Amanda Knox live now?
Knox is originally from Seattle, Washington, and that's also where she currently resides. She finished her degree at the University of Washington and went on to write for the West Seattle Herald, which is also where she's discussed some of the changes in her personal life since coming back. She wrote about moving in with her boyfriend Chris Robinson and how it made her revisit her past, including her ordeal overseas. Her post on the subject reveals a melange of mixed feelings: happiness at moving in together and relief at getting to do something so utterly normal, but also the trouble she had readjusting to her life after being released from prison.
"It's been four and a half years since I returned to Seattle from Italy," Knox wrote. "Until recently, those years were a nightmare roller coaster ride of unresolved legal drama. There was no feeling settled, hard as I tried. I graduated from college, set out on a career path. I fell in love, fell in love again, and again. All this in the time it took the Italian legal system to run its course, and in its wake, for me to recover myself."
For Knox, moving in with Robinson is the first time in a while she felt like a normal twenty-something. Still, it dredged up memories of the past; she even compared their plans to share an apartment to when a new prisoner would be introduced to her cell in Capanne prison. She's familiar with how difficult combining two separate lives can be, even if her other examples of it may be far on the unique and unusual side of things.
As I sit here in a bookstore-café, sipping a Cortado, tapping away on my laptop in a line of similarly industrious mid-to-late-twenty-year-olds, I appreciate how normal this is. Momentous, yes, but normal.
As difficult as Knox's journey was to feeling at home in her home city, it looks like she might have achieved some sense of normalcy.