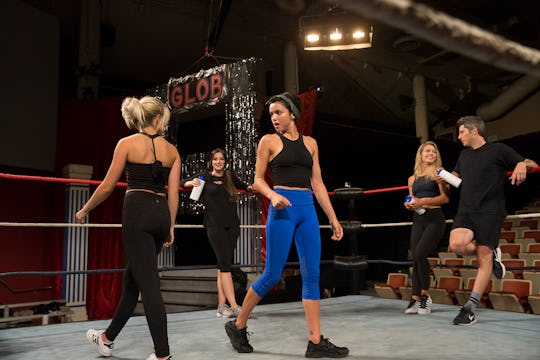 Paul Hebert/ABC
Bekah's Work Outside Of 'The Bachelor' Is All About Helping Kids
On the last episode of The Bachelor when Bekah said Arie likes her because she doesn't need him, I wanted to applaud and give her an award. It also made me wonder what she did for a living. So where does Bekah work outside of The Bachelor? No, she's not an actress — and while she does live in Los Angeles, acting is not her dream. The 22-year-old actually works as a nanny, and according to her ABC biography she wants to keep it that way. In the premiere episode of the season, her introduction package showed her with the kids she nannies as well.
In her ABC biography, Bekah lists her profession as a nanny. When answering where she wants to be in five years, she responded by saying, "Teaching art or owning an art studio for children, hopefully married and planning to have babies!" Well, the latter certainly makes sense for her to be on The Bachelor. It seems that Bekah has two passions: children and art — both of which she's aiming to pursue. According to Reality TV World, Bekah was recently accepted to the University of California at Irvine to major in art. That's not all: Bekah is sporty too, and lists her highest academic achievement as receiving "an invite to nationals for rock climbing and placed third on the west coast in my division."
On her Instagram page, Bekah has occasionally given a glimpse into her work as a nanny. Of course, there's no information about who she works for, but it's clear she loves her job. The caption to one photo of her holding a baby reads, "These moments make me feel like I have the most rewarding job in the world, besides actual motherhood. I love my baby cub."
From that caption and her biography, it's clear that Bekah wants to be a mother herself one day as well. I'm not that much older than Bekah, but she seems pretty mature... which brings to mind the internet frenzy over her. One controversy this season has been surrounding Bekah's age; when ABC announced the contestants, her age wasn't listed on her biography (and still doesn't). Instagram sleuths, however, deducted early on that she must be 22 (the minimum age to be on The Bachelor is 21). Arie is on the higher end of the Bachelor age spectrum at 36, so there's bound to be some drama over the 14-year age difference.
In the last episode, it seemed that Arie was really into Bekah. He gave her the group date rose for the GLOW wrestling date, for example. In a Bachelor recap Arie wrote for People, he said:
With each and every date, Bekah M. continued to impress me. She's able to be vulnerable and open and sexy. Our chemistry was truly off the charts and, on top of that, our conversation was phenomenal. Every time we talked, I learned so much about her, about our potential as partners and about myself. This is why I gave her the group date rose.
It seems that Bekah's age will be coming up on The Bachelor episode given the latest promo, and it won't be taken lightly. During a date, Bekah asks Arie if he knows how old she is. The next shot that's shown is Arie covering his mouth in shock. "Everything is flipped upside down," Arie says. "And I don't know what to do." (Who knows if that has to do with Bekah or it's just skillful editing.) Regardless of what happens on the show, it seems that Bekah knows what she wants and is already chasing her dreams. If she doesn't make it on The Bachelor, I'll be the first to campaign a Bachelorette season.
Check out Romper's new video series, Romper's Doula Diaries:
Watch full episodes of Romper's Doula Diaries on Facebook Watch.