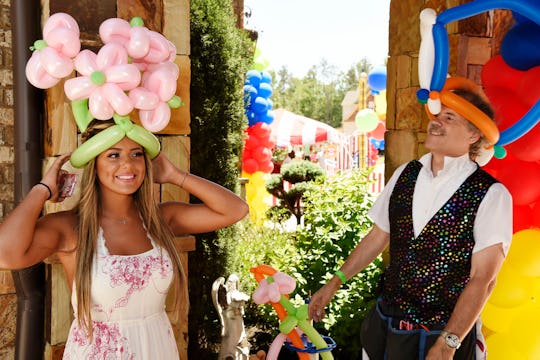 Rick Diamond/Bravo
Where Does Brielle Biermann On 'Don't Be Tardy' Go To School? She's Taking A Break For Now
Don't Be Tardy kicks off its fifth season on Wednesday, September 14th, and although we watched Brielle Biermann walk down the aisle (the graduation aisle, that is) last season, it looks like she'll still feature prominently on the show. Previews for Season 5 show her discussing places she might like to move with sister Ariana (New York, California, or, inexplicably, Florida?), but where does Brielle on Tardy for the Party go to school?
Even though she graduated high school as part of the class of 2015, it looks like Brielle is opting out of college, for now. We saw her massive graduation bash as part of Season 4, and now that she's 19, Brielle is trying to figure out how to pursue her dreams of becoming an entertainment reporter, minus that whole pesky J-school thing. Luckily, she's the daughter of a Real Housewife and an NFL player, so she has a leg up on us mere non-famouses in the entertainment industry. Last season, Kim Zolciak-Biermann did a little meddling to try and get Brielle an internship at E! News in LA. It's unclear if Brielle actually worked a full-fledged internship, but she did get to do a takeover of the network's Snapchat account for one night of her mom's Dancing With the Stars performance.
Previews for this season of Don't Be Tardy show Brielle trying her hand on-camera at Access Hollywood, but her parents are still squabbling over whether entertainment reporting is a valid career move. While Kim is happy to use her connections to give Brielle a leg up, Kroy Biermann seems skeptical of entertainment as a career path. We've seen plenty a Real Housewife spawn aimlessly tumble from "passion" to "passion," usually with startup costs funded by their parents, only to give up on their short-lived "dreams" a little while later. But Brielle seems determined to focus on this right ow.
"My dream job is to be an entertainment reporter," she said in a preview clip. "I would love to interview celebrities, host events like the Golden Globes and red carpet events like that, and be a news correspondent."
Having "a cute little house" in Los Angeles within "close distance to an In-N-Out" was also on the list of priorities for where she sees herself in five years, so, you know, it's good that she has goals. But if this retweet of hers from Tyler, The Creator is any indication, college does not seem to be on her radar.