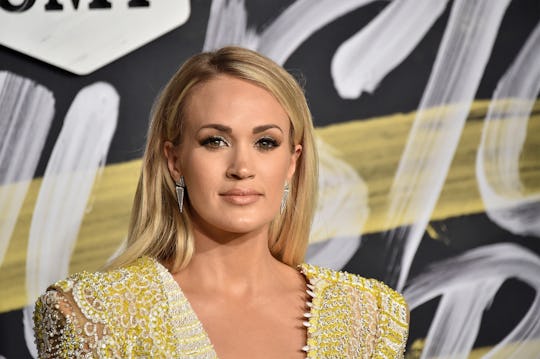 Mike Coppola/Getty Images Entertainment/Getty Images
Carrie Underwood Has Baby No. 2 On The Way, But Where Will She Raise Her New Bundle Of Joy?
The news of any pregnancy is certainly exciting, but there's always something cute about watching fans freak out over their favorite celebrity's news. Ever since Carrie Underwood announced her pregnancy, fans have been over the moon for the past American Idol winner. Given her success on American Idol and as a country singer, plus with her new baby on the way, fans can't help but wonder: where does Carrie Underwood live and where will she raise her new baby-to-be?
Underwood rose to fame as a singer in 2005 after winning the fourth season of American Idol. Even if you're not her most avid fan, or not even a fan of country in general, you still know who Carrie Underwood is. She's responsible for songs like "Jesus Take The Wheel" and the karaoke anthem, "Before He Cheats".
Back in 2009, Underwood became engaged to National Hockey League player Mike Fisher, and the couple married on July 10, 2010, according to People. They already have one child together: son Isaiah Michael Fisher, born on Feb. 27, 2015. But where does the happy family live?
Earlier in the summer, according to International Business Times, reports emerged that Underwood was looking to leave her Nashville home. As noted by International Business Times, a source revealed that the couple decided to move after a pretty scary accident. Understood took a fall that resulted in 40 to 50 stitches to her face and surgery for a broken wrist, according to People.
In addition to the fall, International Business Times reported that a source said, "They've been having a lot of issues with neighbors letting people in the community to look around."
It makes sense for any couple to want their privacy and avoid people looking around, but especially when they're raising a family. So, where did Underwood and Fisher end up moving to?
Apparently, they ended up in the affluent suburb of Franklin, Tennessee, according to Taste of Country. The outlet reported that Underwood bought a 3,099 square foot house for $384,000. It may not be the elaborate mansion people picture stars living in, but Taste of Country reported that it's located inside a gated community, and security is a priority for the couple.
Fans will definitely be relieved to hear Underwood moved out of her past home and into something a little more secure. Especially now that the baby news seems a bit more real, after Underwood made an unexpected appearance at Keith Urban's concert in Nashville, where fans got a glimpse of her bump for the first time.
Underwood posted a video of her singing with Urban on Instagram, and fans were quick to reply. "Love the bump!" one user commented while another added, "'ook at that baby bump!!!"
"The baby bump!! Aww soo cute 😍," one person said.
Carrie Underwood's pregnancy announcement helped answer why, despite her upcoming album release in September, she wasn't touring until May. Fans definitely can't be upset with Underwood. Being pregnant is definitely a good reason to hold back on touring right away. And until then, who knows, maybe Underwood will pop up at another concert and share another glimpse of her adorable bump!