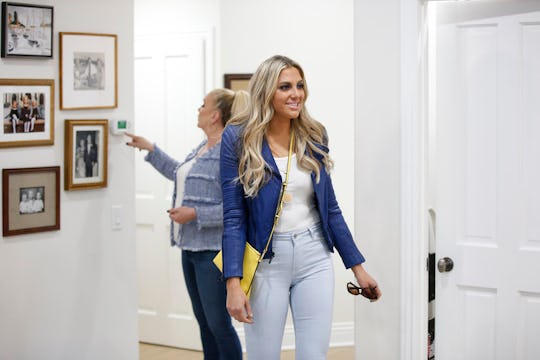 Phillip Faraone/Bravo
Gina Kirschenheiter Makes Post-Divorce Plans On 'RHOC'
On The Real Housewives of Orange County, Gina Kirschenheiter is a recent transplant to California. She relocated from Long Island to Orange County for her husband Matt's job, but she's been open about missing her familial support system back east. Now that she and Matt are divorcing, does that mean Gina won't stick around on this coast? Where does Gina Kirschenheiter live now?
It seems like Gina lives exactly where she did before: in a very nice house in the gated community of Coto de Caza in Orange County. During an appearance on Watch What Happens Live with Andy Cohen, Gina said that she was staying put, though that wasn't always the plan. She did initially place the house on the market after filing for divorce. "We were gonna sell the house and I was like, 'I just don't want to be a homeowner,' because that's so hard, if my dishwasher breaks like it did the other day, whatever," she said. "But it's not a great time so we're actually taking it off the market and we're just going to keep doing what we're doing."
If Gina's living situation is going to remain the same as it was pre-divorce, then she will be living in the O.C. with kids Nicholas, Sienna, and Luca while Matt continues to reside in his Los Angeles apartment.
In an interview with People, Gina explained what contributed to the impending divorce — and location was part of the problem. She and Matt were pulled in two different directions because he had his L.A. job while she had her commitment to RHOC. They were also reassessing their relationship as their children began to grow up (their youngest, Luca, is 2). Not having their extended family around them highlighted some issues in their marriage. As Gina said:
On Long Island, marriage is a community thing. Your parents, your in-laws, your siblings, your friends, your family — they're all a part of your relationship. You don't think about breaking that up. So when we moved to California, it was like, now you only have each other. And you really have to validate that relationship and say, 'Are we really functioning and working well? Are you really my soulmate who I want to spend the rest of my life with in that way?' When we asked ourselves those questions, we discovered that we really didn't.
According to People, Gina and Matt were waiting to sell the O.C. house until the market was stronger. In the meantime, the children live there while Gina and Matt alternate staying with them. Gina also spoke to Us Weekly about her plans for the future and made it clear that she would "never, ever, ever move my kids away from their father." As long as Matt works in L.A., it seems like the rest of the Kirschenheiter family will be nearby.
It's possible the situation might change in the future and they could sell the house after all, but for the moment it looks like Gina is going to continue making California her home away from home.