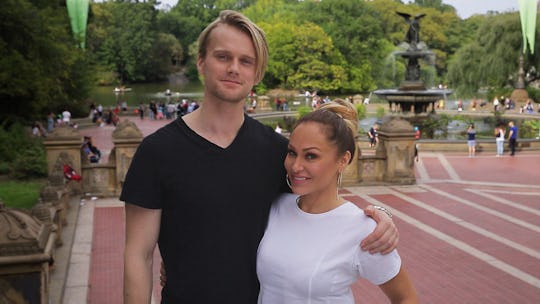 TLC
Is There Evidence That Jesse & Darcey Didn't Make It After '90 Day Fiancé'?
One of the most contentious couples on this season of Before the 90 Days has to be Jesse and Darcey. It seems that every episode they just can't be civil. Knowing that, where does Jesse live after 90 Day Fiancé? He may not be in the United States with Darcey.
Going off of Jesse's Instagram, he certainly doesn't stay in one place for a long time — but such is true for a lot of models. Judging from a lot of his photos, though, he is for the most part in his hometown of Amsterdam in the Netherlands. That could be pretty telling. During this season of Before the 90 Days, he travels to New York City and Connecticut to meet her and her daughters in person. If he's already back in Amsterdam, that could be a sign that it doesn't work out.
Fans have noticed that in March, Darcey and Jesse scrubbed all photos of them together from their respective Instagram accounts — and Darcey's Instagram is now private. This could be further proof that the two are no longer together. According to People, Darcey shared a photo with a cryptic caption that month: "New beginnings is the best feeling… Time to shine again! Keeping my eyes on the prize!"
Watching the current season of 90 Day Fiancé: Before the 90 Days, I get a feeling that these two will, in fact, break-up. I could be wrong! But seriously, these two are bickering every second it seems. When Jesse and Darcey visited New York for Darcey's 43rd birthday, she wanted a perfect celebration. Unfortunately, the trip unraveled pretty quickly.
The couple got in a huge blow-out fight over Darcey's social media use. Jesse believes Darcey cares too much about it, while Darcey loves social media and wants to be able to post on Instagram whenever she pleases. I'm personally on #TeamDarcey on this issue — it's 2018, and Jesse loves Instagram too! — but neither of them came around to see the other's point of view. This resulted in Jesse walking out of an Italian restaurant before he even took a bite of New York style pizza.
While the two made up (pretty dramatically, I might add), they didn't seem to resolve much in the latest episode of Before the 90 Days. Now in Darcey's home in Connecticut, Jesse kept picking fights and Darcey wasn't much better. One minute they were cooking dinner with Darcey's daughters and the next they were fighting about steak. I could barely keep up! The topic of babies came up during their grocery shopping trip, too. Darcey is pretty sensitive when it comes to discussing children with Jesse; he is around 20 years younger than her, and she already has two kids of her own. It's just another sore spot for the two of them.
Darcey and Jesse haven't come out and said that they have broken up — on their respective social media or otherwise — so fans will have to watch the rest of the season to see exactly what unfolds. Both of them, however, give hints on their Instagram accounts that they're not together anymore. Jesse's is his geotags: none of them are in Connecticut, and most are in Amsterdam.
For Darcey, it seems that she has a budding music career and her new song could be a tongue-in-cheek reference to Jesse. Darcey released her first single, "Lock Your Number," with her twin sister Stacey. On her Instagram post announcing the song, Darcey wasn't exactly subtle. "Here's a wink for you all! Love you guys," the caption reads. Could this "wink" be winking to a potential break-up and Jesse's departure out of the states? Fans will have to keep watching Before the 90 Days to find out for sure.