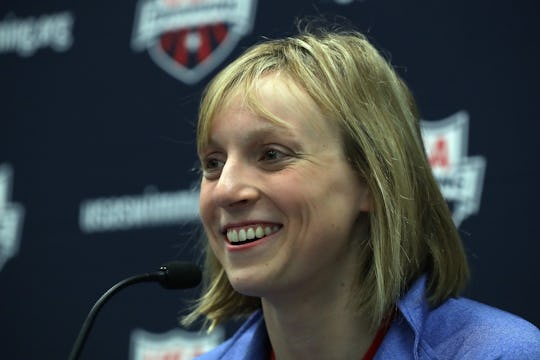 Ronald Martinez/Getty Images Sport/Getty Images
Where Does Katie Ledecky Go To College? The Olympian Deferred Enrollment For Rio
Katie Ledecky is poised to dominate the pool at the Rio Olympics. The 19-year-old is practically expected to win enough medals to swim into the history books. Out of the water she's an unassuming young woman. But once she gets her stroke going, she's a fierce force of nature. But swimming aside, where does Katie Ledecky go to college? She's got a plan, but for the time being will remain laser focused on the Olympics.
At just 15 years old Ledecky competed in the London Olympics, the team's youngest competitor, so competition at the highest level is nothing new to her. Ledecky has been accepted to Stanford University, but decided to defer enrollment until after the Olympics so she could focus on training.
"After careful consideration and joint discussion with both my current club coach, Bruce Gemmell of Nation's Capital Swim Club, and Stanford Coach Greg Meehan, I have decided to defer my enrollment at Stanford for one year so that I may continue my training in my home environment in Maryland leading up to the 2016 U.S. Olympic Trials," Ledecky said in a 2015 statement announcing her decision, according to the Washington Post.
She continued, ""I am thrilled and excited to be admitted to Stanford, and I very much look forward to my enrollment there as a student in the Fall of 2016 and swimming in NCAA competition as a member of Coach Meehan's Stanford team."
Ledecky is the current world record holder in the 400, 800, and 1500-meter races and is being compared to fellow USA Olympic swimmer Michael Phelps after winning the 200, 400, 800, and 1500-meter races at the World Championships to become the "first four-time world champion at a single meet," according to the San Jose Mercury News.
The unassuming teen is so dominant in the pool, she gives some of the best male swimmers in the world some tough competition, including Olympian Ryan Lochte.
"She swims like a guy," Lochte told Sports Illustrated after training with Ledecky at the Olympic Training Center in Colorado Springs (because, you know, men are inherently better at everything). "Her stroke, her mentality: She's so strong in the water. I've never seen a female swimmer like that. She gets faster every time she gets in, and her times are becoming good for a guy. She's beating me now, and I'm, like, 'What is going on?'"
Ledecky is known for being totally normal, which is surprising for someone regarded as one of the best athletes in the world. Her coach, Bruce Gemmel told SI that when Ledecky first showed up to his facility she couldn't do even three push ups.
"When she shows up to practice, she kind of slogs up the steps with her mesh bag and parka and boots, and you're like, This is the best female athlete in the world?" Gemmel said. "There's nothing that says that. Last month we were walking at the training center, and she had some floppy shoes on, scuffing, and I felt like saying, 'American teenager! Pick up your damn feet when you walk!'"
But once she gets on the starting block it's a whole different story.
"Because she's scary, man," Gemmel said. "That face she has on when she's about to perform? She's like a bull in a stall, and someone just has to open the door for her to let go. I've never seen a woman have that attitude. I feel bad for those people who have to race her. Good Lord."