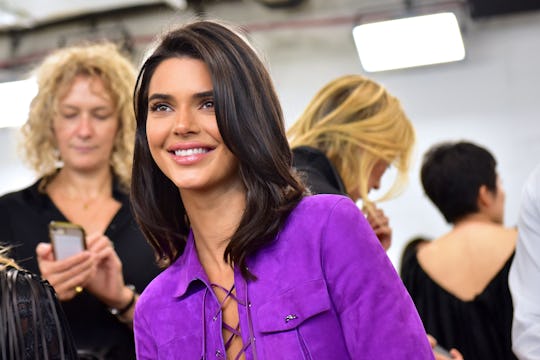 Sean Zanni/Getty Images Entertainment/Getty Images
Kendall Jenner's $8 Million Mansion Looks Actually Quite Homey
The Kardashians are indeed easy to keep up with, in more ways than one, but I always wonder where the younger KarJenners live. Where does Kendall Jenner live full-time? The model travels all around the world for gigs, but she does have a home.
Most recently, Kendall bought Charlie Sheen's former mansion in August 2017. The Beverly Hills home cost a cool $8.55 million, and boasts several rooms, Spanish-style decor, and a movie theater (casual). This home is a gated property, unlike Emily Blunt and John Krasinski's former home that Kendall bought for $6.5 million in 2016. Kendall reportedly didn't feel safe there; she was burglarized during the year she lived there, and a fan followed her up her driveway (remember, it's not gated).
So Kendall had to GTFO, basically, and she bought another mansion. Prior to the former Blunt/Krasinski abode, though, Kendall bought a "starter home" in Los Angeles for $1.6 million. She paid for it in 2014, and moved out in 2017 (she had bought the West Hollywood home prior to moving out).
Now, however, Kendall is in Beverly Hills, and she actually just finished renovating her new digs. Kendall shared the new look on her Instagram stories, according to Architectural Digest. The Spanish-Mediterranean vibe seems to be gone; Kendall opted for a more modern look.
Kendall is also a big fan of art, apparently. The Architectural Digest article pointed to several photographs on her living room walls: Hat and Five Roses by photographer William Klein for Vogue in 1956; Lauren Greenfield's 1993 work Mijanou and Friends from Beverly Hills High School on Senior Beach Day, Will Rogers State Beach. She also has several interesting paintings, such as side-by-side portraits of Marilyn Monroe with the words "good" and "evil" superimposed on them.
What Kendall posted on Instagram stories is just a glimpse, but it shows how much care she's put into her living space. I'm surprised, though I probably shouldn't be. While Kendall is traveling all the time (or at least, that's what social media suggests), that could make home that much more important. In the last month Kendall was at both Milan Fashion Week and London Fashion Week at the Burberry runway show, so she's certainly not sitting around at home all the time. She seems to always return to her home state of California, however, like when she was photographed in Levis in Los Angeles in late September.
While Kendall famously did not walk in New York Fashion Week this year, she apparently has an apartment in the city. In March, People showed off the closet of Kendall's Soho apartment; there isn't much information about it online, but it makes sense that Kendall would keep a place for when she has modeling jobs in New York.
The last time she was in New York, Kendall went on Jimmy Fallon to talk about her friend Hailey Baldwin's engagement to and Justin Bieber. "Whatever makes them happy, I'm happy," Kendall told Fallon. "I've been friends with both of them for a very long time. If everybody's happy, then it makes me happy."
Basically what I'm saying is that no matter where Kendall hangs her hat, it's pretty amazing.