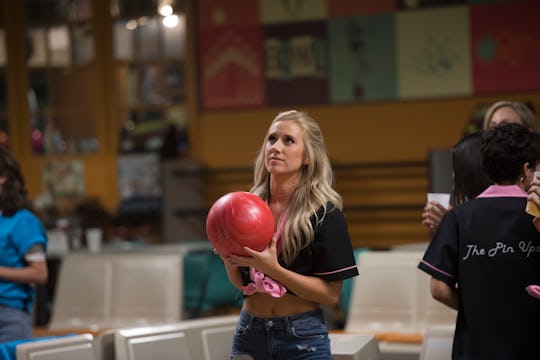 Paul Hebert/ABC
Lauren B. Is So Much More Than Her On-Screen 'Bachelor' Persona
Season 22 of The Bachelor started off with four Laurens, but now that we're down to just one, Lauren Burnham, it's time to wonder if she might be the last contestant standing as well, given her sudden connection to Arie Luyendyk Jr. But before she became part of The Bachelor franchise, she had a life before this, so where does Lauren B. from The Bachelor work? This contestant is part of a big company where she works as a technology salesperson.
According to her LinkedIn account, Lauren B. works for Vonage, which is primarily a business phone and internet company. She serves as a business solutions sales executive and has been with the company since February 2017. Before that, she worked as a marketing specialist for CAVU International, a company that works with different businesses to help them achieve their highest potential through teamwork, motivation, and leadership.
Lauren B.'s job with Vonage is about sales more so than working with clients on a long-term basis. Granted, her LinkedIn profile doesn't explain her position all that much, but it seems to be an important position within the company. In a recent job posting for a position that seems to be similar to Lauren B.'s, the job is described as one that entails working closely with businesses after finding new sales opportunities and predicting changes in technology sales.
Basically, it sounds like a big deal and one that Lauren B. likely takes seriously since she's been with the company for more than a year now.
While the headquarters for Vonage are located in New Jersey, there are locations all over the United States, which enables the company to employ almost 2,000 people country-wide, and that includes a location in Scottsdale, Arizona, where Arie just so happens to live. So if Arie does propose to Lauren B. at the end of the season, it probably wouldn't be difficult for her to relocate to his hometown so they could start a life together.
Although being a technology salesperson doesn't sound like the most glamorous job, it does mean that you have to be unafraid of rejection, which is also a good quality to have as a Bachelor contestant. But it also means that you should have a great deal of knowledge about the market trends already in order to really know what you're selling and how to sell it. And according to PayScale, working as a tech sales executive at Vonage could mean a fairly steep income.
The average annual salary of a Vonage employee is $78,305, with $41,871 on the lower end and $145,648 closer to the top. There isn't a salary listed for Lauren B.'s job, but The Bachelor contestant could make close to $77,666, as that's the average yearly salary for a district sales manager. Not too shabby for the sometimes guarded and quieter contestant.
When Lauren B. isn't kicking butt and taking names in sales, though, she's apparently saving actual lives as a volunteer for the Virginia Beach Emergency Medical Services (VBEMS). Her LinkedIn profile has her listed as a volunteer EMT since 2013 with no end date in sight. So just add that to the list of reasons why the Bachelor contestant seems like a total sweetheart in real life, especially given the fact that she's been more soft spoken than some other contestants this season.
Arie only just recently started taking an interest in Lauren B., so there's still plenty to learn about her as the season moves along in its second half. But as mysterious as she still may be to some viewers, Lauren B. seems like a total catch and could very well end up winning Arie's heart.
Check out Romper's new video series, Romper's Doula Diaries:
Watch full episodes of Romper's Doula Diaries on Facebook Watch.