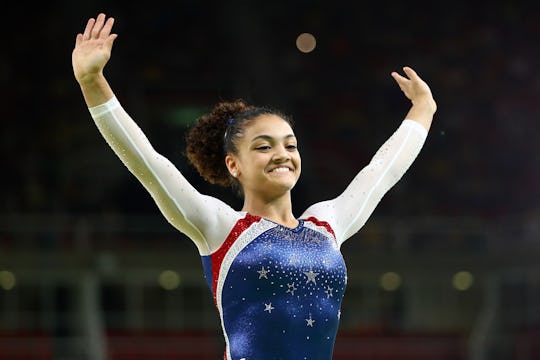 Clive Brunskill/Getty Images Sport/Getty Images
Where Does Laurie Hernandez Go To School? The Olympian Is Homeschooled
No gymnast gets to the Olympics without making major sacrifices along the way. For teens, that can mean skipping out on the traditional academic experience in favor of long days plowing through floor routines and mastering maneuvers on beam. Where does Laurie Hernandez go to school? The gold medalist is homeschooled, according to The Ringer.
Hernandez hasn't attended a brick-and-mortar school since she was about 10 years old, The Ringer reported. Instead, she spends most days at one of two gyms to chip away at her 35 hours of weekly training time. It's a grueling schedule, but Hernandez's hard work earned the 16-year-old an early acceptance to college: she made a verbal commitment to the University of Florida. After making Team USA, though, she decided to give up the gymnastics scholarship. Hernandez announced she's going pro on Instagram on Thursday: "I am so proud and excited to announce that I've turned professional and given up my NCAA eligibility; although I will always be a Florida Gator at heart💙 I'm looking forward to continuing to represent USA at the highest level of gymnastics for several years to come!"
Though Hernandez likely won't be going to college anytime soon, she may opt to finish high school. A Beka Academy provides Hernandez's homeschooling curriculum, according to Team USA. The school focuses on providing Christian education, with offerings of independent study options for high school students outlined on the academy's website. A Beka Academy coursework looks a lot like what most high schools offer, but the curriculum requires four credits in Bible studies. Though Hernandez often talks about faith being a big part of her life, Hernandez's USA Gymnastics profile indicates that her favorite school subjects are science and art.
Though most students plan their lives around school, Hernandez plans school around her training schedule. Hernandez's typical training day starts at 8:30 a.m., NBC reported. She spends six days of each week at the gym, though she generally gets two half days. When she's finished flipping and flying, she heads home to get through her classwork. If she's training at Monmouth Gymnastics Academy, it only takes her about 15 minutes to get home to Old Bridge, New Jersey, according to The Ringer. Her other practice space, Gymland, is about an hour away. And after earning her place in the USA Gymnastics elite program, she's had to pencil in about 12 journeys per year to the famed Karolyi Ranch in Texas.
Though her schedule doesn't allow her much free time, Hernandez still has hobbies outside of gymnastics; her USA Gymnastics profile reveals that she likes to go swimming, ride her bike, and even paint nails. Though she's known for her artistry in competition, she's also an artist off the floor: Hernandez is a writer who loves to draw.
She may not get the full high school experience, but she finally got to go to the Olympics as a member of The Final Five. Earning a silver medal on balance beam and getting the gold with her team, Hernandez got to see her dreams come true.