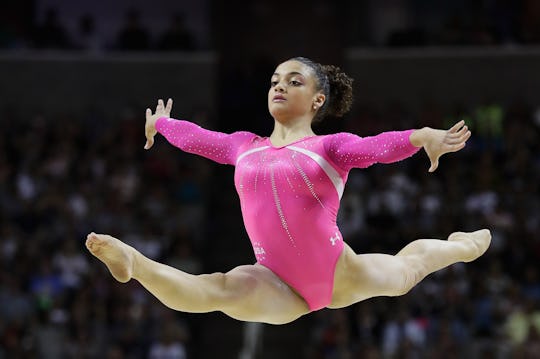 Ezra Shaw/Getty Images Sport/Getty Images
Where Does Laurie Hernandez Train? The Olympic Gymnast Calls The Garden State Home
Laurie Hernandez has been labeled as "one to watch" in the upcoming 2016 Olympic Games in Rio. Soon, more and more people will be hearing about the young gymnast, who recently earned a coveted spot on the U.S. Women's Gymnastics Team. As Laurie goes for the gold and the team racks up the medals, people will be wondering many things like — where Laurie Hernandez trains and whether or not she'll be headed back there after the Games.
Hernandez is both one of the youngest people to be on the U.S. Olympic team and the second U.S.-born Hispanic gymnast to make the U.S. woman's gymnastic team since the '80s. See? It isn't even competition time at the Olympics yet and already, Hernandez has some pretty impressive accomplishments on her resume.
Hernandez, who is just 16 years old, was born and raised in New Jersey, so it is fitting that Hernandez's gym and coach are in the same state — in the town of Morganville to be exact, where she trains at Monmouth Gymnastics Academy. According to the NBC Olympic's official website, Hernandez joined her first recreational gymnastics class at the age of five and her first "serious" gymnastics class at 7 years old. It was there where Laurie captured the attention of her coach, Maggie Haney, who has been her coach ever since and helped her to qualify for the Olympics. How cool is that?
According to a profile about Hernandez by The Ringer, in addition to training at Monmouth Gymnastics Academy, Haney and Hernandez train at Gymland in Hamilton, New Jersey that has "top of the line equipment that is easier on gymnasts' bodies and more closely resembles the conditions of international competition." But Laurie has plenty of time during her days to train, as she has been homeschooled since the third grade and will soon compete in college at the University of Florida.
At Monmouth Gymnastics Academy, the gym's owner, Karen Bianchino expects an "increase in business" for the gym, according to NJ.com, now that Hernandez has made the Olympic team and is set to make her Olympic debut. "An Olympic year means more business, never mind now having an Olympian," Bianchino said in a statement.
For some gymnasts, it is more about the relationship they have with their coach that really helps their competition, and Hernandez and Haney's bond seem to be unbreakable. Hernandez recently told Paper Magazine:
I have a lot of trust in Maggie. I have been with her since I was five and she's led me to such amazing, great places in my gymnastics career. All I can do is really trust her. She has a really good heart for me, so anything that she says I'm just there to believe in her.
So sweet. You can tell that Hernandez and Haney have a great bond and have been working to get the young gymnast to the Olympics for so long. It is this strength and skill, learned through her coach and gym, that will get Hernandez to the gold this month in Rio.