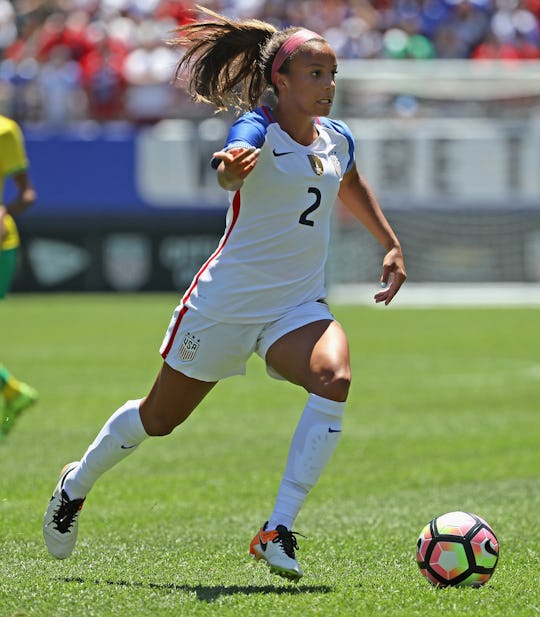 Jonathan Daniel/Getty Images Sport/Getty Images
Where Does Mallory Pugh Go To College? She Fell For This School's Beautiful Campus
Mallory Pugh made history at this year's Rio Olympics by becoming the youngest women ever to start, and score, for the U.S. Women's National soccer team. At just 18 years old, she's too young to remember the epic 1999 Women's World Cup team. So now that Mallory's out of high school, she had to decide what would follow the Olympics, and she picked school. So where does Mallory Pugh so to college? The campus was what sold the soccer star on delaying her pro career.
Pugh accepted a scholarship to the University of California, Los Angeles, where she'll start attending in January, once she's finished with her Olympic competition, according to Fox Sports.
"When I visited UCLA, I just kind of fell in love with the place," Pugh told Fox. "Having that feeling for so long, it really excited me and it still does."
Pugh had offers to go pro, but after talking to her teammate Lindsey Horan, who was the first woman to bypass college and go straight to professional play, she opted for college.
"I talked to Lindsey a lot about it and I really appreciated her support with it. She really helped me decide," Pugh said, according to Fox. "She went through the same thing and I know she wanted the best for me, not just what everyone else thought."
But don't expect to see Pugh on the field in Bruins blue anytime soon. After the Olympics she's slated to play in the Under-20 World Cup in the fall.U.S. Soccer is requiring players who attend the World Cup to red-shirt, or skip a year of eligibility, according to the LA Times.
"We have the No. 1 non-conference schedule in the fall and the No. 1 recruiting class coming in, and right now we have to concentrate on what we're preparing for for the fall," Amanda Cromwell, Pugh's new coach at UCLA told the LA Times. "And we hope (Pugh) is a part of it going forward but we'll be excited with all the players we have."
Pugh and the U.S. team's performance in Rio was lackluster.
"Mallory Pugh, the teenage phenom from Colorado, came to Brazil in search of gold," Mark Kisla of the Denver Post said about Team USA's showing. "She instead was dragged off the pitch by teammates after being hurt late in a shocking loss to Sweden on Friday during the quarterfinals of the Olympic tournament."
Ouch.
But she's still got plenty of soccer left to play. Remember, she's not even old enough to remember who did the epic "Bye, Bye, Bye."
"I knew the song 'Bye, Bye, Bye' but I thought it was sung by the Backstreet Boys," Pugh said according to FOX Soccer. "No one in my house grew up in that age group. We're '90s babies, so I just think it's funny."