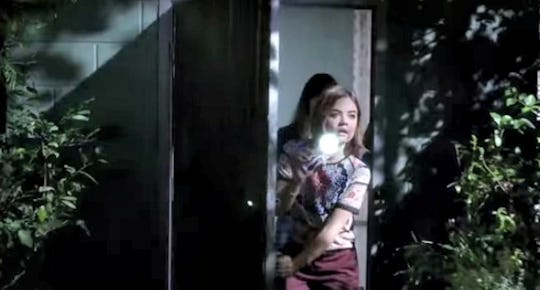 Ron Tom/Freeform
Where Does Sara's Ladder Lead On 'PLL?' Just Out Of Radley, For Now
There's always something happening in Rosewood, but what Pretty Little Liars fans should have been paying attention to all along is Radley. Last week's cliffhanger had everyone wondering what Sara's ladder led to where Aria went. On Tuesday's episode of Pretty Little Liars, they revealed that Sara's ladder leads to the basement of the old Radley and right outside back into the suburbs of Pennsylvania. So that's how Sara's been getting around.
Earlier this week, executive producer Joseph Dougherty told The Wrap that the ladder will lead to more secrets, information about Charlotte, and the "really twisted, convoluted history of Radley," he explained.
Spencer found a map of the old Radley and the new hotel showing that Sara is living in the same room Charlotte's did when she was a patient at the Radley years ago. The brand new filing cabinets and the furniture in the tunnel pretty much confirms that there's more to Sara and her escape route than we might want to think about. Also, how can Sara climb down that gigantic ladder if she can't use her hands? There are so many unanswered questions.
Radley has long been one of the creepiest settings on PLL (OK, maybe those early A hideouts in earlier seasons win that award) and now fans are getting just too much of it for their own good. Sure, the sanitarium has been turned into a hotel since Mona was first locked up there at the end season two but that doesn't make it any easier to want to explore it.
What's kind of fun to think about is that the importance of Radley to the overall plot of the series was foreshadowed way before we knew anything about Charles' violent ways. Since then they've slowly revealed how Radley connects A's squad to the girls. Even Dougherty told The Wrap, "all roads lead to Radley."
What did Liam tell Aria tonight? That "there's a fine line between trouble and high adventure?" Looks like the girls are about to cross that if they try to head back down into the basement. From the ending scene where someone is cleaning off Charlotte's things, it looks like another scare is coming.