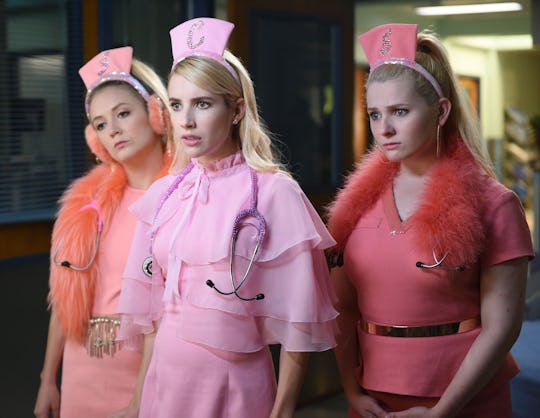 Michael Becker / FOX
Where Does 'Scream Queens' Season 2 Take Place? We're Not In Kappa Kappa Tau Anymore
From its series premiere, Scream Queens established that it was a show unlike anything else on television. Ryan Murphy, king of anthologies, fully embraced the cheesy aspects of '80s slasher horror in the series' freshman run, following a group of sorority girls as they attempted to figure out who was killing them off one by one. The main setting of Season 1 was a sorority house, but the finale ended with the three surviving Chanels locked up in a mental hospital. So where does Season 2 of Scream Queens take place?
According to the official FOX press release announcing the renewal of the series, the show "graduates from the college campus" and is "set in a hospital, where some of the most fascinating and bizarre medical cases are under observation." The series has also teased several bits of amazing casting news over the past few months. John Stamos and Taylor Lautner joined the Season 2 cast as a pair of handsome doctors, and just yesterday, Kirstie Alley's major role as the "brilliant and devious administrator of the C.U.R.E. Institute," where the season takes place, was announced. Colton Haynes is even set for a "mystery" guest star role this season.
In addition to these new faces, at least eight Season 1 characters and their portrayers are returning for Season 2, according to promotional material released by the show.
When Scream Queens debuted last year, it quickly became clear that the show was American Horror Story's funnier, sassier little sister. Coming from Ryan Murphy and his team, the two horror shows are really two sides of the same coin – but they diverged significantly in terms of tone and the way they've treated the designation "anthology."
While both shows are *technically* anthologies, Scream Queens has taken its cast and kept them as the same characters – ostensibly, I'm guessing, because the characters were just far too wonderful to give up after just one go-around. I'm hard pressed to think of better, more iconic Ryan Murphy creations than Emma Roberts' delightfully nasty Chanel Oberlin and Lea Michele's anti-Rachel Berry, the delightfully unhinged Hester Munsch.
While Season 2's hospital setting might sound familiar to fellow Murphyverse devotees, and there is indeed a brand new murder mystery at the heart of the new season, don't get it twisted – this is unlikely to be American Horror Story: Asylum 2.0. If you had any doubts about that, I'd suggest you check out one of the promos for the new season, below.
Oh my gauze, indeed.
According to E! Online, the second season picks up years after the events of Season 1, and the Chanels are now medical students interning at a hospital run by their former nemesis (and former dean) Cathy Munsch. It's unclear how, exactly the Chanels made the jump from convincted murderers and asylum inmates to medical students, but I wouldn't put anything past Ryan Murphy's deliriously fun genius.
Scream Queens Season 2 premieres on September 20 on Fox.