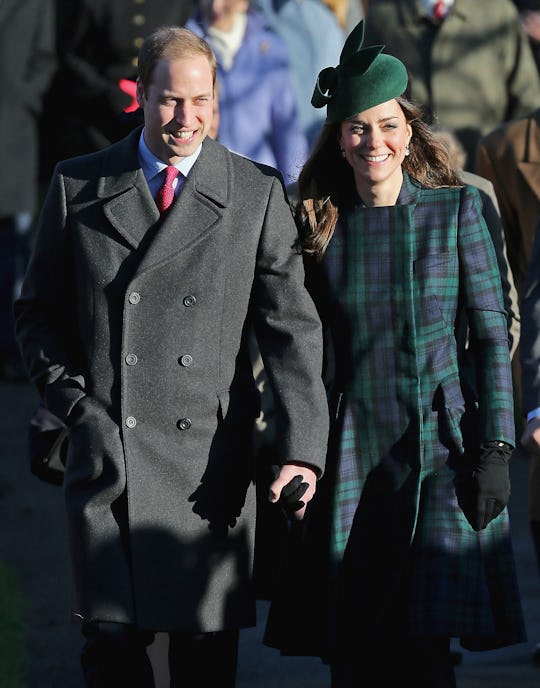 Chris Jackson/Getty Images Entertainment/Getty Images
If You're Wondering Where & How The Royals Celebrate Christmas, It Sounds Lovely
If you could spend Christmas literally anywhere in the world, where would you choose? A quiet, traditional celebration close to home, or something exotic and far-flung? The royal family actually can choose anywhere for their holiday getaway, but for this family the best festivities are right in their own backyard. So where does the royal family celebrate Christmas every year?
The queen has a winter estate — one of her six homes, according to Town & Country — called Sandringham. It is generally the home used for entertaining at Christmas, as Town & Country noted. It's about two hours from London by car and just a hop, skip and a jump — about 10 miles — from a little coastal town named Hunstanton, as you can see on Google Maps.
The family has regularly been spending Christmas at Sandringham since the late 1980s, according to the royal family's website. Before then, the holidays were usually celebrated at Windsor Castle, as noted on the royal family's website, but in 1988, the castle was being rewired. Starting then, the family chose to move the celebrations out of the city.
One surprising note is that Queen Elizabeth and Prince Philip often make the trip to Sandringham on public transportation, according to The Telegraph, which added that their presence is generally surprising to other passengers. Can you imagine handling that luggage?
Other members of the family will arrive on Christmas Eve in order of rank, with Prince Charles and Camilla Parker Bowles arriving last, according to Hello! Magazine. Prince William and Kate Middleton, along with their kids, stay at their own home, Anmer Hall, which the queen gifted to them when they got married, as Hello! Magazine noted. Meanwhile, Prince Harry and Meghan Markle were gifted York Cottage at Sandringham Estate for their wedding, according to Fox News, so it's likely that they'll be spending their first Christmas as a married couple there this year.
After arrivals, the family comes together to put final touches on the Christmas tree and lay out presents for one another in the Red Drawing Room on a white, linen-covered table, according to Hello! Magazine. Rather than go all out with expensive gifts, the family has a tradition of giving funny, gag gifts. Though in 2017, at a loss for what to get the monarch, Kate Middleton made her grandmother's chutney for the queen, according to Southern Living.
After the gifts are opened, the family snacks on tea and scones from sideboards in the Saloon, as Hello! Magazine reported, before a formal 8 p.m. candle-lit dinner. After dinner, the publication noted, the men enjoy port or brandy together while the women retire to wherever they please. (I wouldn't doubt they might gather elsewhere for a nightcap themselves...)
On Christmas morning, the entire family heads out for church at St. Mary Magdalene in the town of Sandringham, according to the royal family's website. After greeting the public following the service, they return home for a traditional dinner and gather to watch the queen give her annual Christmas address, according to Hello! Magazine. The afternoon meal is the end of the workday for the staff, as the family serve themselves a buffet dinner.
So all in all, it's a very normal experience for one of the most famous families. Lots of food, lots of tradition, and no doubt, lots of love.
This first-time mom wants to have a home birth, but is she ready? Watch how a doula supports a military mom who's determined to have a home birth in Episode One of Romper's Doula Diaries, Season Two, below. Visit Bustle Digital Group's YouTube page for the next three episodes, launching every Monday starting November 26.