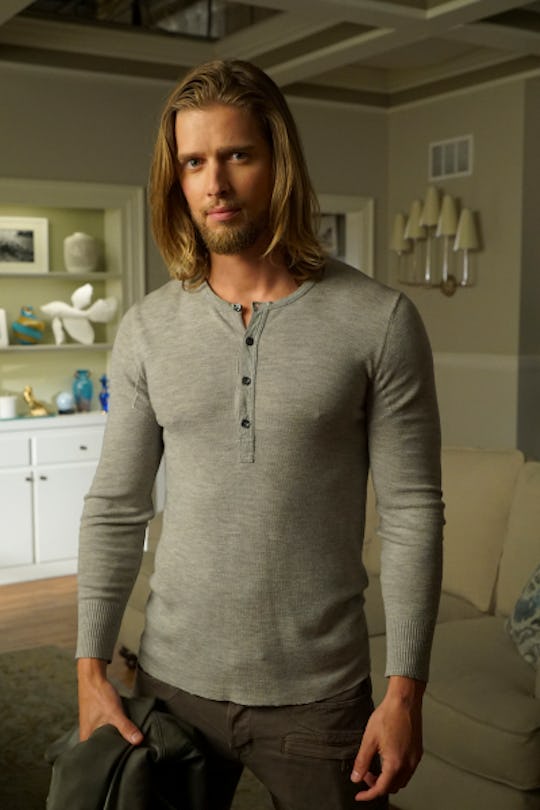 Byron Cohen/Freeform
Where Has Jason DiLaurentis Been On 'Pretty Little Liars'? He Might Have Answers
Jason DiLaurentis has never proven himself to have much of a purpose on Pretty Little Liars, but that doesn't mean he isn't a welcome presence every time he does blow back into town. Season 7 is seeing the return of a lot of characters, and Jason is just the most recent character to reappear. Considering everything Alison has been going through lately, it's about time she got a little familial support from her brother – especially since there's a new, mysterious member of the DiLaurentis family in town, Mary Drake. So where has Jason been on Pretty Little Liars?
Going by that glorious haircape, he's been off working on his Brad Pitt in Legends of the Fall cosplay. Aside from that, it's not really certain what Jason has been up to, but I would hazard a guess that he's been steering clear of Rosewood in the wake of the A reveal; he probably had a lot to work through when he found out he'd been unknowingly dating his long lost sister-cousin. That's enough to send anyone on a downward spiral, where they travel the world morosely before returning to their farm in Montana to cry a lot and fistfight with bears. No, wait, that's Legends of the Fall again.
While viewers don't know what Jason has been up to since they saw him last, the reason for his return has been revealed: he wants to keep Alison away from Mary Drake.
If Jason wants to stop Alison from getting too close to Mary, then that must mean he has some information that Alison doesn't. Mary Drake was presumably as much of a surprise to Alison as she was to the audience because no one knew she existed, but now it looks like one of the DiLaurentis kids was aware of Mary. And whatever Jason knows, it must not be good if he's so anti-family reunion. According to Marlene King, "There's going to be a very awkward family dinner with his aunt and his sister coming up soon."
That's not all. A clip from the promo showed Jason and Aria discussing some kind of secret, which he assured her he wouldn't spill. It seems unlikely that their secret has anything to do with the DiLaurentis drama (if Aria had any insider info about Mary Drake, she should've spilled by now) so perhaps it concerns whatever Jason has been up to in the last five years. Aria's relationship with her newspaper boyfriend still seemed fresh when the time jump happened and she probably wasn't single all five years, so maybe she and Jason reignited the flame at some point? Now that Aria's engaged, it's possible that she'd want to keep that under wraps.
It looks like Jason might be returning to Rosewood with answers for the first time in his life.