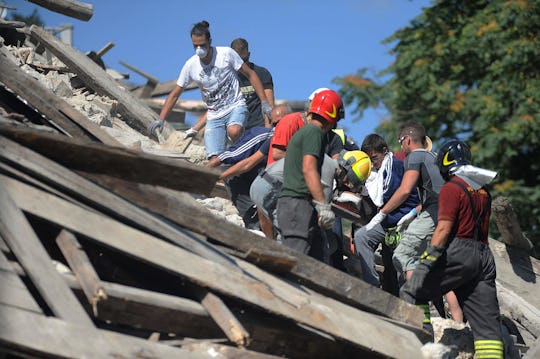 AFP/AFP/Getty Images
Where In Italy Was The Earthquake? This Map Shows The Most Devastated Areas
A deadly 6.2-magnitude earthquake struck Italy early Wednesday, killing at least 73 people, the New York Times reported. It's truly a devastation with rescue efforts ongoing. So, where in Italy was the earthquake? Interactive maps shows the most devastated areas.
The earthquake hit central Italy, along a mountainous stretch in the Umbria region at 3:36 a.m., the Times reported. The quake was followed by about 200 aftershocks, and a 5.5-magnitude tremor about an hour after the quake initially hit.
Amatrice, a remote and mountainous town, is said to be one of the most hardest-hit towns, along with Accumoli and Arquata del Tronto also seeing severe devastation. Mayor Sergio Pirozzi of Amatrice reportedly told CNN that "the town is no more."
In an interview with Al Jazeera, Gilberto Saccorotti, a geologist at Italy's National Institute for Geophysics and Volcanology, said the area in which the earthquake hit was "not surprising."
That particular area has a long history of very [powerful], very energetic seismicity. It's not surprising to have had a [powerful] earthquake there. From my knowledge of the area, the roads are very narrow, so if one road fails, the connection may become very difficult ... The depth is quite shallow, about four [kilometers]. Usually the typical depth is in the order of ten [kilometers].
These Interactive Maps Highlight The Areas Most Impacted By The Quake:
This Map Features The Aftershock Activity:
Amatrice is a historic town, home to Italy's Spaghetti Amatriciana Festival, a celebration of the famous pasta dish: amatriciana. Its 50th year of the annual festival was set to take place this upcoming weekend on Aug. 27-28.
An Amatrice resident named Giancarlo, told Reuters that the town was preparing for the festival, filled with a lot of young people on vacation:.
It's all young people here, it's holiday season, the town festival was to have been held the day after tomorrow so lots of people came for that. It's terrible, I'm 65 years old and I have never experienced anything like this, small tremors, yes, but nothing this big. This is a catastrophe.
In a national address, Italy's Prime Minister Matteo Renzi said, "no family or village or town will be left alone," the Washington Post reported. He added that the rescue efforts were ongoing and that rescuers "will continue to find people alive."
Many have taken to Twitter to send thoughts, and to share their condolences for the lives lost in Italy.