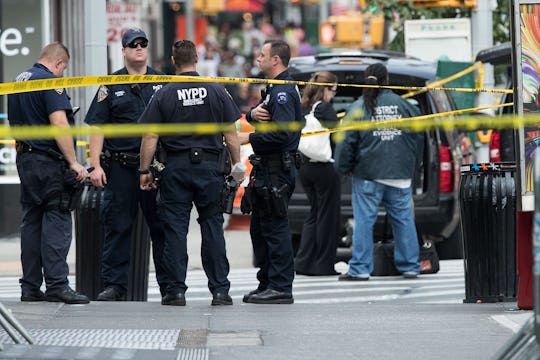 Drew Angerer/Getty Images News/Getty Images
Where In New Jersey Was The Bomb? This Map Shows Its Proximity To NYC
After an explosive found in New York City's Chelsea neighborhood detonated Saturday, injuring 29 people, bombs found in two separate cities in New Jersey are naturally raising questions about whether the incidents are related. Where in New Jersey was the bomb? According to CNN, a backpack containing multiple bombs was found near a train station in Elizabeth, New Jersey — one of which was detonated accidentally by a robot sent in to disarm it. As of yet, no connections have been made by officials between the bombs discovered in Elizabeth and those in Chelsea, but given the proximity and the fact that both bombs were placed during the same weekend, it's hard not to speculate that they could be linked.
Elizabeth is about 16 miles southwest of New York City, and is closer to the location of the Chelsea bombing than Seaside Park, New Jersey, where another explosive was found over the weekend. According to CNN, around 9:30 p.m. two men found the explosive-filled backpack by a garbage can outside a restaurant near the Elizabeth train station. They alerted police once they saw wires and pipes in the bag. Officials have said that the remaining bombs found in Elizabeth are in the process of being sent to FBI labs in Quantico, Virginia, for further analysis.
According to The New York Times, Elizabeth Mayor J. Christian Bollwage spoke about the investigation into the bomb following its discovery Sunday, and explained that New Jersey State Police and FBI agents worked through the early hours of the morning to ensure that train tracks and platforms were thoroughly searched for further signs of explosives, as well as all municipal garbage cans. While details about the bombing and motive are still scarce, Bollwage said Elizabeth might not have actually been the intended target of the explosive, noting, "it is very possible that someone was trying to get rid of a package, as opposed to setting it off."
For now, there does appear to be one clear connection between Elizabeth and the Chelsea bombing. According to The Independent, 28-year-old Ahmad Khan Rahami is being sought by the New York Police Department in connection to the Chelsea bombing, as officials believe he may be the man seen on surveillance video of the explosion. Rahami is a U.S. citizen born in Afghanistan whose last known address was located in Elizabeth. New York Mayor Bill de Blasio said he could be armed and dangerous, and told CNN, "we need to get this guy in right away."
In addition to the bomb that exploded in Chelsea, a second bomb was actually found about four blocks away, though it failed to detonate. According to CNN, the Department of Homeland Security is actively involved in the situations in both New York and New Jersey, trying to confirm if this weekend's activity is indicative of a possible terror cell.
According to The Washington Post, a news agency associated with ISIS claimed Sunday that the terrorist group has claimed responsibility for a stabbing that occurred at a Minnesota mall over the weekend that left nine people wounded (the suspect was fatally shot by a police officer). Officials haven't yet confirmed whether the attack in Minnesota was linked to the explosions in New York and New Jersey, and no terrorists groups have yet claimed any association with them.
In an interview with CBS News Monday, New York Gov. Andrew Cuomo "there may be a foreign connection" to the bombings, according to The Washington Post, but didn't specify what that could be. As the cities are left reeling from a weekend of violence, though, there's no doubt that those in New York and New Jersey (and throughout the entire country) will be waiting for answers.