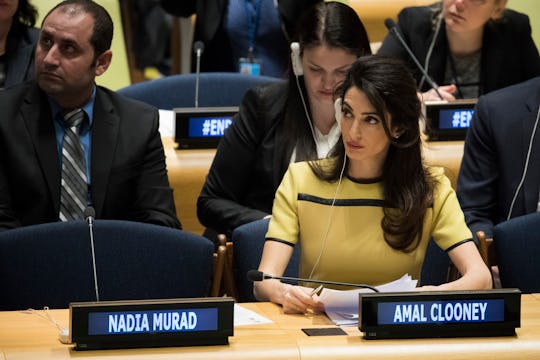 Drew Angerer/Getty Images News/Getty Images
Amal Clooney Will Likely Give Birth In This Country
There is something about the birth of celebrity babies that is so exciting. Maybe it's the anticipation that grows in the weeks following the announcement, or the excitement fans get from watching celeb bump updates on social media and at red carpet appearances. Needless to say, Amal Clooney's pregnancy has been just as exciting for all of the above reasons. And because Amal and actor George Clooney's babies are due any day now, the anticipation for their arrival is getting real. The anticipation is so real, in fact, that inquisitive minds want to know all of the details surrounding the birth —like, where is Amal Clooney giving birth?
This is a very legitimate question, of course, especially with the impending birth of Clooney's first children (yes, they're really having twins) and the couple's tendency to jet set around the world. George Clooney was born in Lexington, Kentucky yet spends time traveling between homes in the United States, Italy, and England. Amal, an accomplished human rights attorney, was born in Lebanon, raised in Europe, and attended university in England.
The Clooneys' love story has been an international affair itself. The couple first met in Italy at a charity dinner in 2013, according to People, and it is that same country that they were married in September 2014. With so many places to call home for the couple, one must wonder if they have hard time choosing where to settle down, and raise their new family. But judging by reports, it seems like they've already decided where to give birth to their little ones, at least.
Amal will not be giving birth in her husband's home country or the country where they officiated their marriage. Instead, according to E! News, Amal will reportedly give birth in London, England. This might be confirmed by the fact that the Clooneys currently live in a home west of London, according to People, where they were spotted on a public outing in early April.
The Clooneys have even begun nesting in their home in England, too. In February, it was reported that the couple were renovating the home to get ready for the arrival of the babies. Given that traveling might be difficult after the twins arrive, it would only make sense for Amal to give birth in the same place she plans on raising her family.
In February, George expressed the difficulty in choosing one place to start and raise their new family, telling Paris Match magazine,
We have the chance to live between three countries: Italy, America, and England. But as soon as the children go to school, it will be necessary to choose where to settle. In the meantime we will continue to move according to our respective schedules.
The birth of the Clooney babies is highly anticipated already — knowing now that Amal Clooney will likely give birth in England makes it all the more exciting.