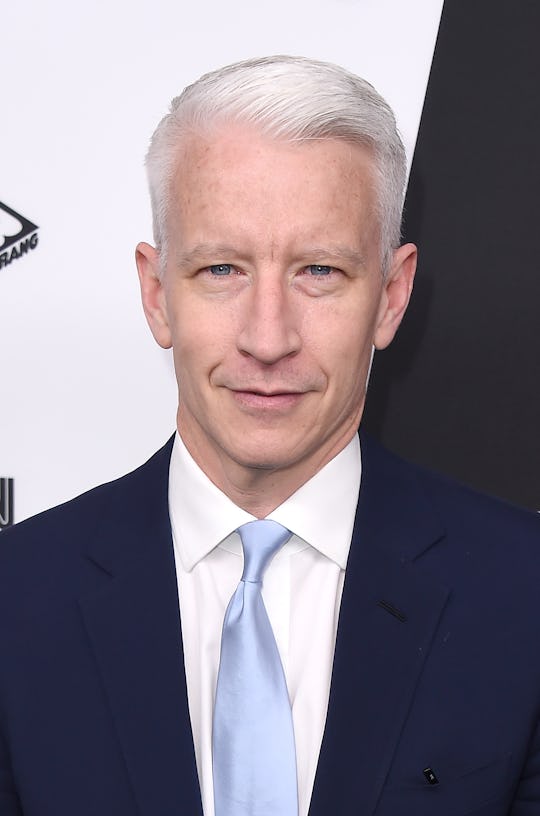 Nicholas Hunt/Getty Images Entertainment/Getty Images
Where Is Anderson Cooper? The CNN Anchor Isn't On As Much Tonight
Many Americans are watching election night unfold on CNN tonight, and they've followed the exchange between anchors Wolf Blitzer and Jake Tapper as the two cover state projections as they roll in. However, where is Anderson Cooper on election night? He hasn't been gracing CNN's election night coverage as often as America has come to expect, at least compared to his frequent coverage throughout this seemingly never-ending election cycle.
Cooper is indeed co-hosting CNN's election night coverage along with Tapper, Blitzer, and Dana Bash — he just hasn't been in the limelight for the majority of the night. Early on in the night, before polls closed, Cooper did take center stage as he asked political commentators about the importance of the Latino vote. Since then, he's appeared briefly and interviewed experts, but Blitzer and Tapper have mainly covered election night.
Election night is long, however, and surely Cooper will give viewers another brief appearance before Election Day is over. And if he doesn't, fair enough — Cooper has been incredibly busy this election cycle and the man deserves a bit of a break. Not only did he moderate a wild presidential debate last month (that alone should earn him a nice Caribbean vacation) but he also had an intense discussion with Kellyanne Conway, Republican candidate Donald Trump's campaign manager, on Sunday.
Covering several seemingly unending hours of the election night is also fairly taxing for any host, so it could be that Cooper will tag-team out with Blitzer later in the night. If not, however, viewers will be able to see him Wednesday night at 8 p.m. ET on Anderson Cooper 360°, likely breaking down the results of the election.
For those who may have missed his recent political coverage, Cooper has been busy breaking down how schools teach students about elections, why the Ku Klux Klan supports Republican candidate Donald Trump, and why Democratic nominee Hillary Clinton's private server scandal isn't the same as Watergate. For those missing the CNN host, there are plenty of Anderson Cooper 360° videos to tune into (whether you choose to do that before or after election night is up to you, of course — although personally, I'd be totally okay with skipping tonight's anxiety-causing, minute-by-minute updates on the election itself.)
For Cooper fans out there, don't worry — whether Cooper makes another appearance on CNN tonight or not, he'll definitely be weighing in on any and all election results in coming days. That, or he'll be fleeing the country.