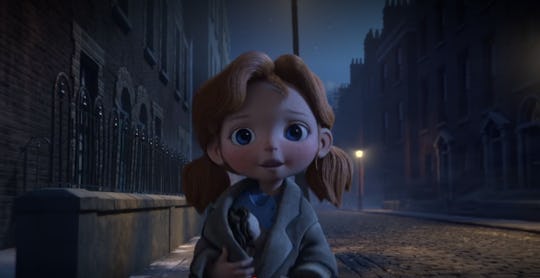 What's on Netflix/Youtube
'Angela's Christmas' Is A Sweet Story With A Warm, Old Town Feel
Netflix's new animated film, Angela's Christmas, is a family-friendly movie that could easily become your favorite holiday watch. The film tells the compassionate story of a young girl named Angela, who steals her church's Baby Jesus doll to keep him safe. The film has a rich aesthetic, and looks like it takes place in some old European town, so viewers are wondering, exactly where is Angela's Christmas set?
In an interview with Brown Bag Films, Angela's Christmas director Damien O'Connor revealed that the movie is set in the town of Limerick, Ireland. The film is based on Pulitzer Prize-winning author Frank McCourt's children's book, Angela and the Baby Jesus, in which McCourt recounts his mother Angela's story of taking the Baby Jesus from her local church in Limerick when she was a child. In his famous memoir, Angela's Ashes, McCourt detailed his mother's adult life and her struggles to keep her family afloat.
The late author's wife, Ellen McCourt is serving as the film's executive producer, and when speaking with Brown Bag Films, she revealed that her husband has always wanted to keep his mother's childhood story alive. "It was my husband Frank's dream to see this delicate little Christmas story transformed into a classic Christmas tale," she said. "He would be thrilled with Angela's Christmas as is the entire extended McCourt family!" The movie is indeed a family affair, because Frank McCourt's brother, actor and writer Malachy McCourt, is featured as the narrator of the film, and he also provided many of the details that helped the director create the film's aesthetic.
In his interview with Brown Bag Films, O'Connor described how he used Malachy's old photographs to try to recreate a town that the real Angela may have lived in. "We researched a lot of photographs and chose real locations that appealed, we visited the city and the same real life locations and got a lot of help and advice from The Frank McCourt Museum," he told the outlet. "The barracks feature as Angela's childhood home was situated in front of them. Malachy sent us photos, you can see some of them framed in the family house in the film."
The director also revealed that the he worked with the film's art director to use Ireland's real locations as inspiration to create the animated background seen on screen. "The art director Alfred Llupia is Spanish, so he had a great eye for seeing the unusual in the usual, the stuff we take for granted living in Ireland he saw with fresh eyes," said O'Connor. "How damp rises up walls, how moss grows in our rooftops, how we need to dry socks in front of fires."
In a trailer for Angela's Christmas, viewers can get a glimpse into O'Connor's animated version of early 1900's Limerick. You can see young Angela (Lucy O'Connell) running through cobblestone streets lined with traditional European buildings and horse-driven carriages racing by. But, more importantly, the trailer also reveals the heartfelt message of the film. You see Angela come to greet the Baby Jesus, but when she finds him with no blanket, she snuggles him into her jacket to keep him warm. "I'll get you home, get you all warm and snuggly, and I'll wrap you up like a little holy sausage," she adorably tells the doll. "I'm not stealing you, I just want to get you warm."
Angela's Christmas is set to hit Netflix on Nov. 30, and with its old Irish charm and story of compassion and love, it may just become your family's new holiday favorite.
This first-time mom wants to have a home birth, but is she ready? Watch how a doula supports a military mom who's determined to have a home birth in Episode One of Romper's Doula Diaries, Season Two, below. Visit Bustle Digital Group's YouTube page for the next three episodes, launching every Monday starting November 26.