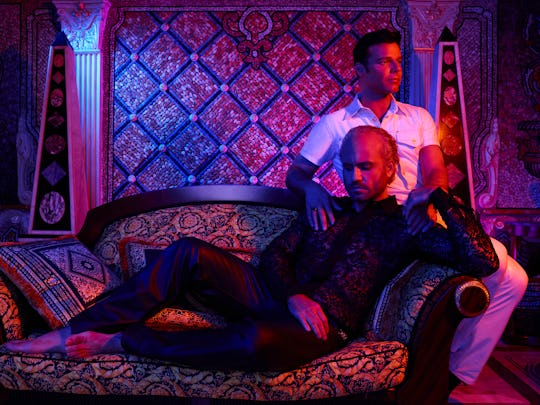 Pari Dukovic/FX
Versace's Death Had An Everlasting Impact On Antonio D'Amico
In the first two episodes of The Assassination of Gianni Versace, viewers were introduced to Antonio D'Amico (played by Ricky Martin), who was Gianni Versace's partner for 15 years until his death. "Don't Ask Don't Tell" promises to explore Antonio and Gianni's relationship a little bit further, but fans might be wondering what happened to the real Antonio after Gianni was murdered. Where is Antonio D'Amico now? He's overcome a lot in the face of tragedy.
D'Amico has kept a low profile in the decades since Versace's death, though he recently spoke to the Observer about what he was going through at that time in his life. He felt certain details of American Crime Story Season 2 were inaccurate, including the fictional D'Amico's reaction to Versace's death, as well as a meeting at the opera between Versace and his murderer Andrew Cunanan. "There has been so much written and said about the murder, and thousands of suppositions, but not a trace of reality," D'Amico told the Observer.
He went on to describe his mental state following the traumatic shooting, opening up about a deep depression he dealt with that lasted for several years. Versace had left D'Amico a stipend in his will and access to his numerous houses, but D'Amico ultimately ended up with merely a fraction of the money and none of the real estate. All of the homes belonged to the Versace company, which was owned by siblings Santo and Donatella and her daughter Allegra. That restricted D'Amico's ability to use them, though according to The Guardian, D'Amico didn't care about any of that because he was still mourning Versace.
I had never been through a depression and never saw a therapist as I was advised to: why did I need to tell someone else what had happened when I knew I was this way because Gianni's death had torn me in two? I was in a nightmare, I felt nothing and gave no importance to anything...the house, the money...because it felt false to have expectations of life.
According to Deborah Ball's book House of Versace, D'Amico had a few different odd jobs, including some modeling and acting work, before he first met Versace in 1982. They both attended the ballet at La Scala in Milan and quickly fell for each other. Over the course of their relationship, D'Amico designed for two lines within the Versace company, Istante and Versace Sport. After Versace's death, D'Amico continued to work in fashion.
In 1999, he launched two simultaneous lines, both women's wear and men's wear, with business partner Massimo Lotti. D'Amico was supported at the time by close friend Elton John, who told The New York Times that he was attending D'Amico's first show "because he's my friend and he's been through hell in the last two years," before adding "I think you should show support for people when they are trying to do something."
D'Amico and Lotti worked together again in 2012 on a luxury denim line, though these days D'Amico has returned to sportswear with a golf line. D'Amico also began a new relationship in 2005 and currently lives in the countryside of Northern Italy with his partner. When talking with the Observer, he said:
Sincerely, after two decades, I will always be connected to Gianni as a person I loved for more than 15 years. But today, I am a different person... The world continues to go around... You can look back at the past until a certain point, [but] then you need to look ahead to the future.
After undergoing such an ordeal and struggling with his intense grief in the years that followed, it's good to know that D'Amico has found some peace and happiness.
Check out Romper's new video series, Romper's Doula Diaries:
Watch full episodes of Romper's Doula Diaries on Facebook Watch.