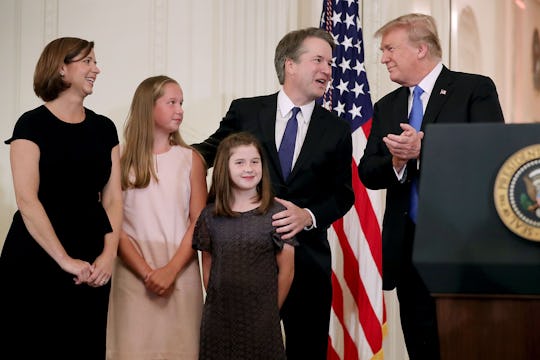 Chip Somodevilla/Getty Images News/Getty Images
Here's What We Know About Ashley Estes Kavanaugh's Background
As the country watches intently to see whether or not the Senate will confirm Brett Kavanaugh to the position of Supreme Court Justice, more and more information about the family is being revealed about his family. Through the process of hearings, Kavanaugh is answering questions regarding his involvement in politics over the past few decades, and the more the world learns about him, the more those closest to him become subject to interest as well. It's left many people wondering: Where is Ashley Estes Kavanaugh from? The nominee's wife has worked in politics for years.
KTXS reported that Estes Kavanaugh is originally from Abilene, Texas, and that she graduated from Cooper High School in 1993. It was actually her husband that revealed the answer to that question, as the network reported he said during a speech: "My wife Ashley is a West Texan. She has been a great wife and an inspiring mom. I thank God every day for my family."
Kavanaugh continued explaining that he met his wife in 2001, and that their first date fell on an extremely important day in American history. "Our first date was on September 10, 2001." he said. "The next morning, I was a few steps behind her when the Secret Service shouted at all of us to sprint out the front gates of the White House because there was an inbound plane. In the difficult weeks that followed, Ashley was a source of strength for President Bush and everyone in this building."
However, her husband is not the only one in the family with extensive experience in politics. According to Estes Kavanaugh's LinkedIn page, she actually served under the George W. Bush administration as a personal secretary to the President, as well as the Director of Special Projects and Media Relations Coordinator at the George W. Bush Presidential Foundation. Previously, she was an assistant to Bush, worked on his and Cheney's campaign, and was an assistant at The White House.
The couple has two children together. Heavy.com reported that their two daughters, Margaret and Liza, are very close to their parents, and that prioritizing their family is one of their core values. "I have two spirited daughters, Margaret and Liza. Margaret loves sports and she loves to read. Liza loves sports and she loves to talk," Kavanaugh said during a press conference. "I tried to create bonds with my daughters like my dad created with me. For the last seven years, I coached my daughters' basketball teams. The girls on the teams call me coach K."
Though it is her husband who is running for office, The National Review reported that The New York Times and the Associated Press have both filed public records requests for emails from Estes Kavanaugh containing keywords that are hot-button issues for her husband's tenure. Such terms include "abortion," or "gay."
As for now, many people are concerned about Kavanaugh's stances on important issues, like women's reproductive health, abortion access, and gun laws. Though Kavanaugh has been particularly discreet about his personal beliefs, as NBC reported he's said: "My judicial philosophy is straightforward. A judge must be independent and must interpret the law, not make the law. What matters is not a judge's political views but whether they can set aside those views to do what the law and the Constitution require. A judge must be independent and must interpret the law, not make the law."
However, not everyone remains convinced that Kavanaugh will approach his tenure with complete objectivity. Politico reported that, most recently, issues regarding Kavanaugh's unwillingness to state whether or not he's been in conversations with top executives discussing the Mueller case has raised some red flags. Regardless, the hearings continue as the country waits to see whether or not the Kavanaugh family will once again return to politics in a major way.