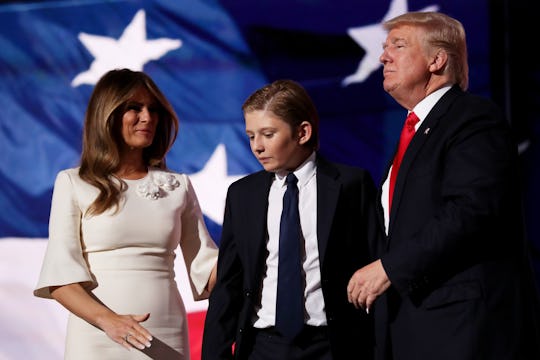 Chip Somodevilla/Getty Images News/Getty Images
Where Is Barron Trump During Election Night? The Trumps Will Be Watching From Trump Tower
Tuesday night is definitely one of the biggest nights of Republican presidential nominee Donald Trump's life. As a businessman, it is possibly the first time, if elected, he'll ever take office. So on the biggest night of Trump's life, it's natural for his family to be by his side. But where is Barron Trump during election night? Donald Trump's youngest and only son with wife Melania is presumably with his family, watching as the results roll in.
By now, everyone knows about Trump's oldest children — Donald Jr., Ivanka, Eric, and Tiffany — were all campaigning for their father across the nation during this election cycle. They've maintained a perfect image throughout the campaign — heck, even Hillary Clinton complimented Trump's children during the second presidential debate. However, Trump's youngest child — 10-year-old Barron Trump — has been notably absent from this campaign. It's no wonder why Barron was so absent, he is a pre-teen after all, who has to attend school and study his social studies and not, you know, talk to voters in North Carolina. So that could be why his whereabouts on election night were a little less known. But voters have seen and heard glimpses of Barron here and there. Who could not forget his appearance at the Republican National Convention in July where he looked a little over it all?
Or who could forget when Donald dragged Barron into the first presidential debate, when Trump mentioned Barron's interest in and possession of "computers":
So we have to get very, very tough on cyber and cyber warfare. It is — it is a huge problem. I have a son. He's 10 years old. He has computers. He is so good with these computers, it's unbelievable. The security aspect of cyber is very, very tough. And maybe it's hardly doable.
So while Barron has not been completely present on the campaign trail, his presence has been felt. Therefore, it's no surprise that it wasn't announced whether Barron would be present at Donald's "victory party" at the New York Hilton Midtown, according to Quartz. But if Barron is not there the entire time to hear the election results, that too is understandable. After all, the 10 year old likely has a bed time — presumably not at the hours when the states start getting called in Donald's or Clinton's favor. According to Donald Trump's Twitter, however, the family was watching the results come in at their home in Trump Tower. Trump Tower is Barron's home — so it is only natural for him to be in attendance watching the results with his family.
Even though Barron Trump has been notably absent from campaigning for his father, the Trumps — children, grandchildren, and all — will definitely be present and watching the results together, no matter how the results skew.