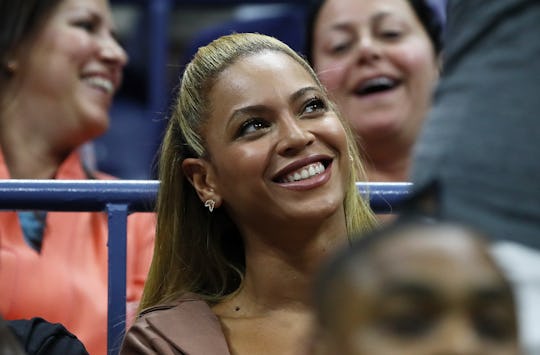 Al Bello/Getty Images Sport/Getty Images
Report Claims Beyoncé & Her Twins Are Still In The Hospital
Today is a day worth celebrating — Beyoncé has reportedly given birth to her twins with husband Jay Z, with Us Weekly claiming the family welcomed the newest additions early last week. But less than 24 hours after the news first broke, a new report from TMZ might have fans wondering where Beyoncé is now. Is she still in the hospital? Are the twins OK? More importantly, when will they all get to go home?
On Sunday morning, TMZ reported that Beyoncé had given birth to twins earlier in the week, but the twins have continued to be in the hospital for the past week due to a "minor issue." TMZ also reported that Beyoncé herself reportedly remains in the hospital, but she, along with her twins, are doing okay. This report, although unconfirmed, is scary. The moments after giving birth should be a cause for celebration, not uncertainty or fear.
Unfortunately, because representatives for Beyoncé and Jay Z have not yet confirmed the birth of the babies or confirmed any of the other reports lingering around on the internet, for that matter, there is no way to tell or confirm Beyoncé's location or the condition of her health.
Therefore, until representatives for the couple confirm where the couple is and if Beyoncé actually gave birth, there is no telling where she might be. If you take TMZ's report, Beyoncé is still in the hospital with her twins — and it is unclear when she might be released. But there is a possibility that Beyoncé could also be at home, comfortable with her babies. In April, Page Six reported that Beyonce and Jay Z put in a bid for a home in Bel Air, California with eight bedrooms, big enough for the whole Knowles-Carter family.
It is possible that Beyoncé could be at this home with her babies. Or, it is even possible that she is home, still pregnant and wondering why everyone is talking about her giving birth, while laughing at us all from the comfort of her couch.
There is still so much that is unknown about the details surrounding the reported birth of Beyonce's twins. Until a statement is released, we can only assume that both mother and babies are doing well and that their health is OK and that they should be leaving the hospital shortly.
But until that announcement is made, fans can continue to be so excited that the twins have arrived.