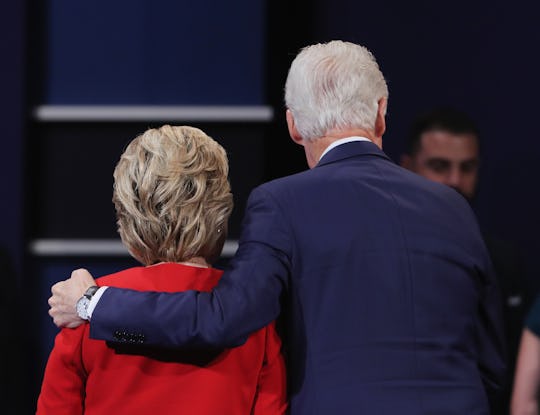 Spencer Platt/Getty Images News/Getty Images
Where Is Bill Clinton At The First Presidential Debate? Hillary Clinton's Husband Is MIA
The first presidential debate is underway and Hillary Clinton and Donald Trump are moments away from taking center stage during one of the biggest moments in modern American politics. Both candidates are expected to bring close family members to the debate, but one face was noticeably missing from the audience before things got started: Hillary Clinton's husband. So, where is Bill Clinton at the first presidential debate? It took a while for that questions to be answered, but he is in the audience.
Nearly 30 minutes before showtime, the Democratic nominee arrived at the debate hall at Hofstra University. Her husband, however, CNN initially reported to be backstage and may likely not be in the audience tonight.
This might have been because, as CNN reported on Monday, Bill Clinton prefers to be behind the scenes and because he's so invested in this election, he doesn't want any emotion or facial expression to be taken out of context and affect the debate's outcome.
But, just minutes before the presidential candidates took the stage, Bill Clinton shook hands with Melania Trump and took his seat in the audience.
The former president tends to keep a low profile during Hillary Clinton's political debates. According to CBS News, he did not attend a single one of the 25 debates during Hillary Clinton's 2008 contest for the Democratic nomination. It was also up in the air if Bill Clinton would be in the audience for the first Democratic debate for the 2016 election. John Podesta, Clinton campaign chairman, later confirmed to CNN that he would be viewing that debate on TV, instead of in the audience of the venue.
The 42nd president has remained largely out of the spotlight during his wife's campaign so far, with the exception of participating in fundraisers to help support her campaign.
While the former president reportedly traveled with Hillary Clinton to the debate's venue in Hempstead, New York, it was widely speculated who would and would not attend.
Over the weekend, Donald Trump's campaign suggested that the Republican nominee might invite Gennifer Flowers, a woman who had an affair with Bill Clinton.
Trump campaign manager Kellyanne Conway, however, said they had not formally invited Flowers, even though Trump tweeted on Saturday that he was considering inviting her to sit in the front row for the first debate.
"We have not invited her formally, and we do not expect her to be there as a guest of the Trump campaign," Conway told CNN's Jake Tapper on State of the Union.
While there has been plenty of speculation, uncertainty, and possible scandal surrounding the first presidential debate, the issues that were addressed on Monday night were what many American voters were interested in.