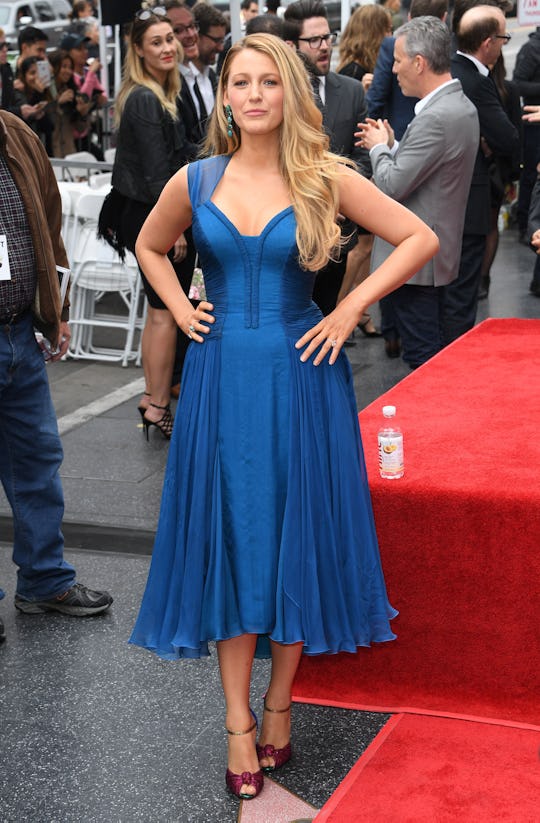 MARK RALSTON/AFP/Getty
Don't Worry, Blake Lively Is At The Golden Globes
Ryan Reynolds was nominated for a 2017 Golden Globe for his work on the film Deadpool, but he seemed to show up for his red carpet interview without his gorgeous wife. So where is Blake Lively at the 2017 Golden Globes? Don't worry, she's there to support her handsome husband. She just wasn't by his side at that precise moment in time.
Earlier in the day, Lively posted a cute snap to her Instagram, which showed the glamorous actor getting ready for the big day. As easy as it would be to believe that Lively literally just rolls out of bed with her flaxen curls perfectly arranged and her eye makeup on point, apparently this is not the case. Her picture showed her with two stylists hard at work helping her primp, rollers in hair and surrounded by products for days. "I did not wake up like this," she quipped in the photo's caption. Of course, she still looks phenomenal, even in the throws of being styled and put together, and I still kind of feel like she might wake up with a fierce cat-eye already done, but I can't tell for sure. In any case, she was at least definitely there to support Reynolds on his nomination, so never fear.
Though she wasn't there to answer interviewers' questions about her dress or her style, she was definitely at the red carpet and at the awards with her husband, where the proud parents looked as beautiful as it is possible for two human beings to look, as per usual. Reynolds was his usual charming self, while his wife was somewhere else. ‌
Reynolds obviously relies a lot on the support of his lovely wife, with whom he has two young daughters named James and Ines. He has said that while he was working on his hit movie Deadpool, for which he is nominated for this Golden Globe, he was working around the clock, and struggling with anxiety about all the expectations surrounding the film. As reported by Huffington Post, he credits his wife with keeping him from succumbing to stress. "Blake helped me through that. I'm lucky to have her around just to keep me sane."
Lively recently accompanied her husband to the Hollywood Walk of Fame, where he received a star for the first time this year. It's obviously been a huge year for this lovely couple, including the birth of their second child and Reynold's biggest role to date. Luckily, they always have each other.