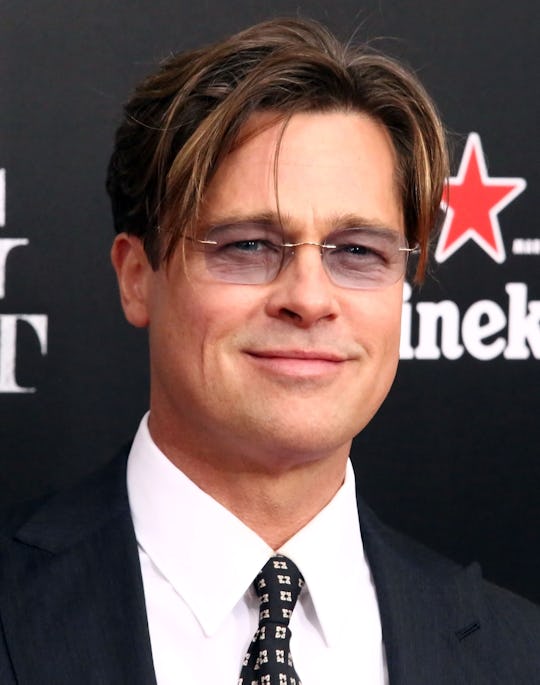 Astrid Stawiarz/Getty Images Entertainment/Getty Images
Where Is Brad Pitt Living? Rumor Has It He's Still In California
It's been a week since news broke regarding Angelina Jolie and Brad Pitt's divorce, and the Fight Club actor recently revealed that he would be skipping out of promoting his new film, Voyage of Time: Life's Journey, due to his "family situation." With a possible custody battle on his hands, it's understandable that Pitt might want to avoid as much publicity as possible — but curious fans are wondering where he's disappeared to while dealing with his divorce. So where is Brad Pitt living? And where are Jolie and her kids staying?
According to Curbed Los Angeles, Pitt has been living at his 5,228 square-foot Los Feliz home, which he has owned since 1994. The Daily Mail reported last week that Los Angeles police officers visited Pitt's Los Feliz mansion, and according to CNN, Pitt spoke to law enforcement regarding an alleged incident with one of his children. However, LAPD officer Jenny Houser told CNN, "LAPD is not handling any report of allegations of child abuse for Mr. Brad Pitt." Neither Pitt nor Jolie's representatives have responded to Romper's request for comment.
The Federal Bureau of Investigation, on the other hand, released a statement on Thursday saying, "The FBI is continuing to gather facts and will evaluate whether an investigation at the federal level will be pursued."
However, in a statement to People, Pitt said:
I am very saddened by this, but what matters most now is the well being of our kids. I kindly ask the press to give them the space they deserve during this challenging time.
In the meantime, Jolie and her children have reportedly been staying at a five-bedroom, five-bathroom rental in Malibu, according to TMZ. The Daily Mail reported that Jolie allegedly began renting the $95,000-a-month house several weeks before filing for divorce from Pitt, although according to People, a member of Jolie's staff only began renting the house during the second week of September.
Regarding the divorce, Jolie's attorney told People:
Angelina Jolie Pitt has filed for dissolution of the marriage. This decision was made for the health of the family. She will not be commenting at this time, and asks that the family be given their privacy during this difficult time.
Both Jolie and Pitt have remained out of the spotlight during their divorce proceedings, and requested privacy as they go through this tough transition.