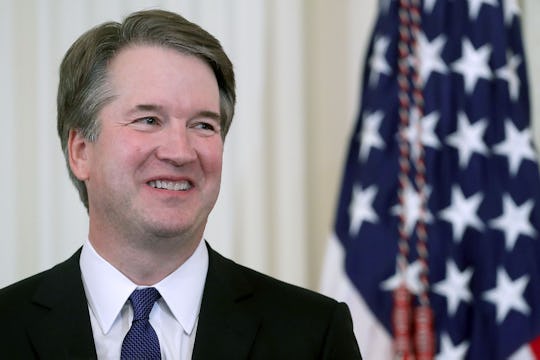 Chip Somodevilla/Getty Images News/Getty Images
Where Is Brett Kavanaugh From? Here's What You Need To Know About Trump's SCOTUS Nominee
When Supreme Court Justice Anthony Kennedy announced his resignation, President Donald Trump said he planned to try to replace him as soon as possible. And on Monday, July 9, Trump announced his nomination for the vacant seat — Brett Kavanaugh — leaving many of his administration's critics worried about the possibility of his pick actually getting confirmed. That being said, you might be wondering where Brett Kavanaugh is from and what his background is. Here's what you need to know about the judge's history.
Kavanaugh, 53, was born in Washington, D.C., and he grew up nearby in Maryland, according to SCOTUSblog. He attended Georgetown Preparatory School growing up and then went on to study at Yale, where he graduated from in 1987, before going on to Yale Law School, graduating in 1990, according to the SCOTUSblog.
In 2006, according to The American Presidency Project's website, President George W. Bush appointed Kavanaugh as a circuit judge to the U.S. Court of Appeals for the District of Columbia Circuit, which is the most powerful court in D.C. (other than the Supreme Court, of course). At Kavanaugh's swearing in ceremony, President George W. Bush made a speech, which was published on The American Presidency Project's website, where he shared more details of Kavanaugh's life and early career. At Yale, Kavanaugh graduated with honors, and at Yale Law School, he was an editor of the Yale Law Review, according to Bush.
Before his appointment to the U.S. Court of Appeals for the District of Columbia Circuit, Kavanaugh spent many years working in D.C. politics. Early in his career, he spent several years as a law clerk for two different U.S. Court of Appeals judges, and he also worked as a clerk for Justice Anthony Kennedy, according to SCOTUSblog. Interestingly, should Kavanaugh be appointed to the Supreme Court, it would be due to Kennedy's vacancy.
When Bush became president in 2001, Kavanaugh joined him in the West Wing. From 2001 through 2006, Kavanaugh served in the White House as Associate Counsel, a senior Associate Counsel, and as Staff Secretary, as Bush explained in his 2006 speech.
All that being said, Kavanaugh's long list of D.C. experience also comes with many controversial opinions.
Namely, as The Cut reported, Kavanaugh has fought for limits on abortion on multiple occasions. For example, in the fall of 2017, a story of an undocumented teenager (known as Jane Doe) who wanted an abortion during her time in federal custody went viral, according to The Cut. Kavanaugh was assigned to the case, and he ruled against her right to an abortion, The Cut reported. (Despite his ruling, she ultimately was granted access, and she got an abortion, The Washington Post reported.)
This is concerning, as Trump has made his intentions to appoint a SCOTUS judge who would help overturn Roe v. Wade, as CNBC reported. Roe v. Wade was a Supreme Court landmark decision made in 1973 that ultimately legalized abortions in the United States, according to Planned Parenthood's website. Dawn Laguens, executive vice president of the Planned Parenthood Federation of America, has already expressed frustration with Kavanaugh's appointment. She told Politico:
We already know how Brett Kavanaugh would rule on Roe v. Wade, because the president told us so ... We take Trump at his word that Brett Kavanaugh would overturn Roe v. Wade and get rid of the Affordable Care Act.
That being said, in addition to the obvious liberals, some conservatives are also skeptical about Kavanaugh's nomination. As The Washington Post pointed out, in Kavanaugh's speech Monday night, he played things very safe, attempting to come across as bipartisan and an ally to women and minorities.
Before Kavanaugh can actually be appointed to the Supreme Court, he needs to be confirmed by the Senate — and those opposed to Kavanaugh's politics are already working to keep him from filling the vacant seat. Chuck Schumer, the Senate Democratic leader, said, "I will oppose Judge Kavanaugh's nomination with everything I have," The New York Times reported.
Senate Majority Leader Mitch McConnell said the Senate will vote on Trump's SCOTUS pick sometime this fall, before November's midterm elections, ABC News reported. However, given many Democrats' opposition to Kavanaugh, it wouldn't be a surprise if the process took longer. For example, President Barack Obama nominated Merrick Garland to the Supreme Court after Antonin Scalia's February 2016 death, and Republicans managed to hold off on confirming someone for over a year, aka once Trump was in office, as CNBC reported. Only time will tell what will happen with Kavanaugh's nomination.