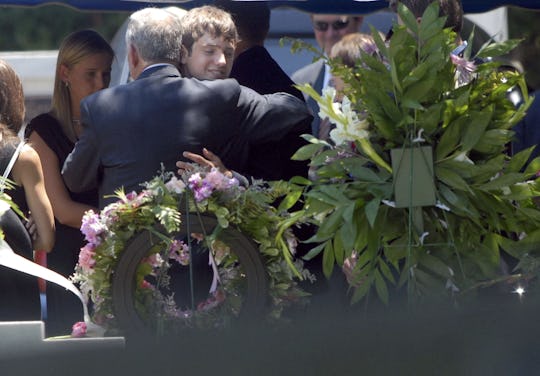 Barry Williams/Getty Images News/Getty Images
Where Is Burke Ramsey Now? JonBenet Ramsey's Brother Will Finally Tell His Story
There were three people in the Ramsey house the night JonBenét was killed, aside from any potential unknown assailants: JonBenét's parents John and Patsy Ramsey and her brother Burke, who was nine years old. According to his parents, Burke was asleep for the duration of the night but in the aftermath of the crime, Burke faced a lot of public scrutiny, even though he was never officially linked to his sister's death. With the reemergence of the case and the Dr. Phil interview with the older brother, you may wonder: where is Burke Ramsey now?
Burke has never spoken about what happened that night, but he will for the first time this year in an interview with Dr. Phil for his show premiering Sept. 12. John Ramsey has spoken about how he tried to shield Burke from the fallout of the tragedy, which is perhaps why Burke has never spoken about it before now. By all accounts, Burke has lived a relatively quiet life despite the intense scrutiny of his family and the horror they endured. He is 29 now, a graduate of Purdue University, and he works as a software developer – a job in a similar field as his father, who was the president of a computer company called Access Graphics.
The Ramseys attempted to raise their son "as normally as possible" after the murder by undergoing therapy and moving away from the scene of the crime. John Ramsey described Burke as "pretty quiet" and "certainly matured," though he said he wasn't sure if the therapy did end up helping. John was also proud of Burke's accomplishments: "He's got a 401k plan and an IRA and he did it all on his own."
The interview with Dr. Phil will allow Burke to finally tell his side of the story, as well as reveal information from the investigation that has never been heard before. "After the murder, Burke was interrogated three times," Dr. Phil told In Touch Weekly. "Once when he was nine, twice when he was 12 – those tapes disappeared. For the first time in 20 years, we're going to hear from the other person that was in the house the night [JonBenét was murdered]."
Burke is one of the few people related to the case who has never shared their perspective publicly. While it's unlikely that anything he says will provide a huge break in the case, it will still be fascinating to hear his account of that night and the aftermath.