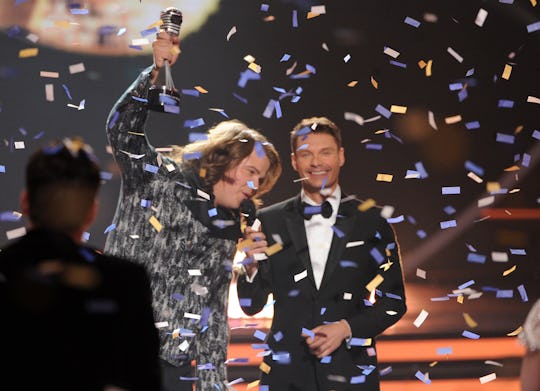 Kevin Winter/Getty Images Entertainment/Getty Images
Where Is Caleb Johnson Now? The Season 13 Winner of 'American Idol' Is Still Singing
The series finale of American Idol is among us and I for one am incredibly sad about it. Thursday, April 7, we will find out who will be the winner of season 15 and the last Idol winner ever — and it hurts me to even type those words. When I look back on all of the previous seasons of Idol I begin to wonder, where are the former Idol winners now? While Kelly Clarkson and Carrie Underwood never fail to stay out of the spotlight, what about the lesser known Idol winners? Like, where is Caleb Johnson now?
Johnson was only 23 in 2014 when he auditioned during Season 13 and subsequently won the the title of American Idol. Johnson was known as the season's rock singer and sang songs by bands like Aerosmith and Whitesnake throughout his weeks on the show. His rock moniker must have resonated with America, as the voted him to be their idol. But what has the Asheville, North Carolina-native been up to in the two years since he won?
Good news, he is still singing and making music and currently working on his upcoming album. Johnson released his newest single, "Holding On" on March 30 off of his upcoming album and the song is pretty damn good.
In May 2014, after the release of his debut album, Testify, Johnson publicly stated that his record label, Interscope, did not support his album release. "Interscope did not believe in [Testify]," Johnson told Yahoo! "They didn't promote it. They didn't support it." Not long after, Johnson part ways from the label.
But there has been good news for Johnson as of late. He is currently pre-selling his album through Pledge Music, a website where fans pledge money for constant updates on the Idol's album and rewards for money pledged. Johnson For $10 fans can receive a digital copy of the album, when it is released but Johnson has a lot of fun rewards too — like a brewery tour with Johnson in his hometown for $100 or a personalized drawing by Johnson for $200.
The Wall Street Journal reports that Johnson is currently the second worst selling star of American Idol, selling only 28,000 albums since his win. Hopefully, this new album will bring him back into the spotlight.
Johnson will also be making an appearance during the show's finale episodes on April 6 and April 7. This is very good news for his fans who miss seeing him weekly on their television screens. When he was on Idol he always seemed like he was having the best time on stage, so I can't wait for him to be back.
While it seems as if Johnson has faced some hardships with his career in the past, he is still singing and making music and that integrity is what really matters in an American Idol.