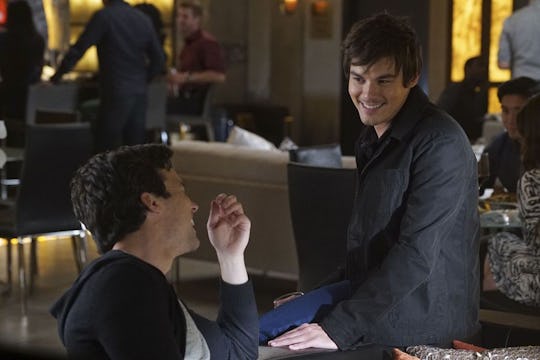 Eric McCandless/Freeform
Where Is Caleb On 'Pretty Little Liars'? It's Time He Returned To Rosewood
When it comes to Pretty Little Liars, it's not at all strange to have characters go missing from time to time. We'll never forget those early seasons when Ali was thought to be dead and then it turned out she was actually very much alive. At this point, Caleb's disappearance doesn't seem as dire as Ali's but fans are beginning to wonder where Caleb is on Pretty Little Liars and if he'll be coming back soon. The last time Caleb left Rosewood for a long period of time was when he went to Ravenswood, but that was a planned trip. This time Caleb left pretty abruptly and didn't even say goodbye.
After the Liars were done burying the body of Archer Dunhill aka Dr. Rollins, Caleb showed up at Spencer's house just as she and Hanna were cleaning up from their time in the woods. Caleb came to try to convince Spencer that even though he and Hanna kissed it didn't mean anything and then basically professed his love to Spencer. Although Spencer was very moved by Caleb's words she was also in the middle of a sticky situation and couldn't very well let Caleb in so she sent him away, breaking all the Spaleb shippers hearts.
To make matters worse, Spencer then cheated on Caleb by making out with a stranger, who we now know is the new detective in town. Still, although Spencer made a mistake, at the advice of Hanna she went to go find Caleb to tell him that she wanted to try and make things work. Unfortunately for Spencer he was already gone, but where did Caleb go? The only person that has a clue is Toby and he's not giving out any information. It's possible Caleb just went to visit his mom so he could clear his head. Or maybe since he's in communication with Toby he decided to look into Archer Dunhill on his own and see what he could find out.
Wherever Caleb is, it looks like he'll be back soon. Based on the promotional photos for Tuesday's episode, Caleb appears to be back in Rosewood. So is he back to reconcile with Spencer or has he decided it's Hanna he's meant to be with after all? Thankfully we won't have to wait long to find out.