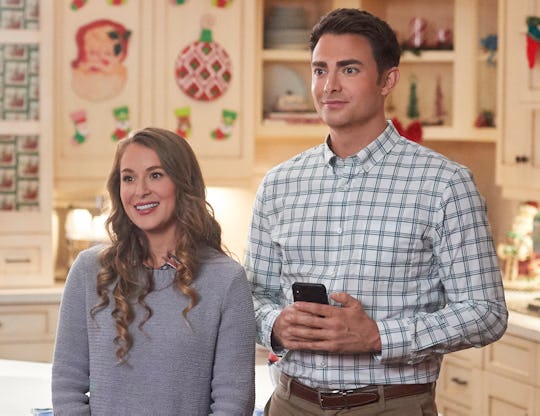 Hallmark
'Christmas Made To Order' Reaffirms That It Doesn't Matter Where You Celebrate
Christmas Made to Order, yet another of Hallmark's 22 (!!) holiday offerings for the 2018 season, features all of the materialistic things that we've come to expect from Yuletide celebrations. There's cookie baking and decorating, ornament hanging, and, of course, singing. There is also plenty of the real magic, like family and romance. But one thing there isn't? A definitive location. So if you find yourself asking where is Christmas Made to Order set, I don't have an answer for you. However, what I do have is some other info about the holiday flick.
Number 20 out of 22, airing Sunday, December 23, Christmas Made to Order stars Alexa PenaVega as Gretchen, a professional holiday decorator who is trying to make that a thing. In reality, this is her side gig, but she wants to grow Holidays Made to Order into a real business (obviously, that's where the title comes from). She's hired by Steven (Jonathan Bennett, best known for playing Regina and Cady's shared "sexy pushed back hair" love interest in Mean Girls), an architect who is too busy to put together the perfect Christmas his family wants. Both are single, so you can probably imagine where this is going.
In real life, Bennett and PenaVega certainly aren't involved, but they clearly got along on set. Just take a look at how happy they are posing together as they get ready for fake Christmas:
Even some pretty harsh lighting can't ruin those perfect smiles (and perfect hair, and perfect teeth… and those eyebrows — wow). Christmas Made to Order was filmed in November, as Bennett's Instagram leads to believe, so it probably wasn't too hard to get into the holiday spirit at the time.
PenaVega is a Hallmark veteran at this point. Last year, she starred alongside her real-life husband, Carlos PenaVega in Enchanted Christmas. But this year, they opted to appear in separate movies for the network, with Carlos starring in A Midnight Kiss (which comes out on Saturday, Dec. 29, and, as you may have guessed, is appropriately New Year's Eve-themed). So the couple was able to attend press events together both in support of the other and for their own projects.
Oh, and fun fact: The two combined their last names when they were married in 2014. Carlos was born Carlos Pena Jr. — you may recognize his name from his days as the star of boy band and accompanying Nickelodeon series Big Time Rush. The couple have a son, Ocean, who frequently makes appearances on their social media accounts, as well as their YouTube channel, LexLovesLos. Needless to say, the superstar couple have a lot of fans.
I'm not exactly clear on Bennett's romantic standing at this point, but I do know that he's awesome. If you didn't catch him echoing his famous role as Aaron Samuels in Ariana Grande's "Thank U, Next" video, do you even internet? He's also super into cooking, as he's hosted a few different versions of the Food Network Cake Wars series. I guess the holiday baking he has to do in Christmas Made to Order wasn't a stretch on his side. Maybe the movie doesn't need a real location because it was set in Cookie Heaven. I'm good with that.
After a very frustrating first birth experience, this Deaf mother wanted a change. Will the help of two Deaf doulas give the quality communication and birth experience this mom wants and deserves? Watch Episode Four of Romper's Doula Diaries, Season Two, below, and visit Bustle Digital Group's YouTube page for more episodes.