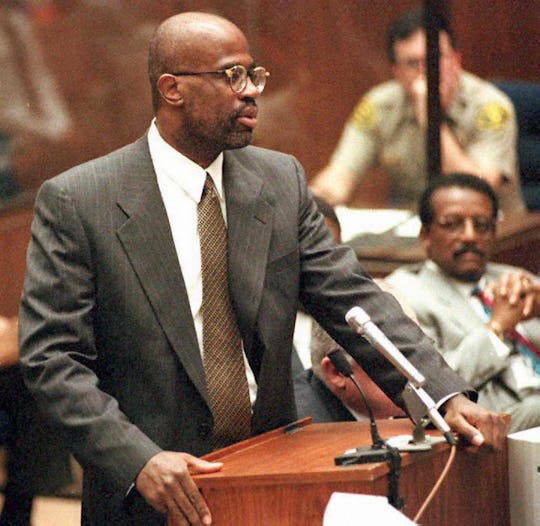 AFP/Getty Images
Where Is Christopher Darden Now? The Former O.J. Prosecutor Is Out Of The Spotlight
The new FX miniseries, American Crime Story has everyone reliving the O.J. Simpson trial. Aside from taking a new perspective on the events of the trial, it's also reminded viewers of all the periphery figures of the case. It's hard not to wonder, while you watch,for example, where former prosecutor Christopher Darden is now. While the original trial was happening, you couldn't turn on the television, open a newspaper, or even small talk in the grocery store without running into the O.J. Simpson trial. Although many people remember Simpson's defense counsel, like Johnny Cochran, Christopher Darden is less of a household name. But this was the guy who asked Simpson to try on those now infamous gloves. He was a pretty big deal.
Darden, alongside Marcia Clark, was very well known at the time, but he recently told the Huffington Post that he normally doesn't get recognized anymore from the Simpson trial. During the trial and immediately after the verdict, Darden and Clark were widely criticized for their handling of the case. He told Oprah that he was "devastated and decimated by the trial." And he's had to work through a lot of emotions about how it all ended up. He said, "I don't think I'm so much as bitter. Now, I think I'm angry...I couldn't be angry back then. I couldn't be pissed off, because I'm a prosecutor. But now, I'm just Chris Darden. Now I can just be pissed off."
Darden still works as a criminal law attorney and according to the Huffington Post, "writes a little." He is married to another Marcia and has three children. He's a self described family man. While the man himself is just trying to live a life out of the spotlight, Darden's character already has a bit of a following on American Crime Story. Played by Sterling K. Brown, the casting is almost too good to be true. The show also delves a little into his back story — he was mentored by Cochran and actually had very little trial experience when he was assigned to Simpson's case by the Los Angeles district attorney's office.
Darden hasn't yet commented publicly about the miniseries but it's safe to assume he's trying to avoid it. The trial made him famous, but for all the wrong reasons.