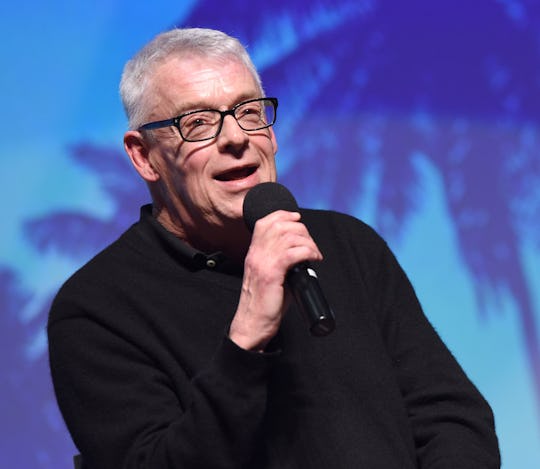 Vivien Killilea/Getty Images Entertainment/Getty Images
Cleve Jones Is Still Doing Important Work
ABC's queer history miniseries When We Rise is taking over primetime for a full week, minus one night to make room for President Trump's first State of the Union address. The project comes from Dustin Lance Black, who also wrote the Oscar-winning screenplay for the 2008 Harvey Milk biopic. One character who features prominently in both projects is Cleve Jones, Milk's young intern-turned-LGBTQ+ rights activist. So where is Cleve Jones now? Unsurprisingly, he's still an activist.
But Jones isn't just a real person who features heavily in Black's work — he actually wrote the memoir upon which the miniseries is based, When We Rise: My Life In the Movement. He and Black worked side by side on the two iterations of When We Rise — the book and the miniseries — in Black's home. Jones also serves as a historical consultant on the miniseries, and he and Black are close friends in real life.
Today, Jones works as a community organizer for UNITE HERE, a hospitality labor union. Part of the significance of When We Rise is that it's an epic miniseries, spanning five decades in the LGBTQ+ rights movement — work Jones got involved in as a teenager, continued throughout an HIV-positive diagnosis, and still does today.
"It's the only thing I'm interested in. I really enjoy it. I enjoy the strategizing. I find it fun. I don't golf. I can't retire," Jones said of his work in an interview with The Daily Beast. "I can't afford to retire, and I would end up doing what I do anyway."
Much is made of Jones' proximity to Harvey Milk, the first openly gay elected official in the state of California, during his campaign days. But Jones was also present in the immediate aftermath of Milk's 1978 assassination. His memoir revisits the scene in detail, and its impact on his life is obviously profound. In the years following Milk's assassination, Jones was diagnosed HIV-positive and a new battle for LGBTQ+ rights presented itself to him. When We Rise also tackles this portion of his life, using it to illustrate the story of the AIDS crisis in America during the 1980s.
Today, Jones lives back in the Castro, the site of his early activism and a historically significant San Francisco neighborhood to the LGBTQ+ community. He moved back seven years ago after spending many years away from the Bay Area. According to his Daily Beast profile, "he has even recorded an audio walking tour of the neighborhood for the Detour mobile app."
While he provided much of the source material for When We Rise, Jones openly acknowledges the miniseries' shortcomings and inaccuracies, saying the show "could be truthful without being accurate." Still, it's apparent that he's supportive of Black's work. You can catch When We Rise on ABC beginning Monday, Feb. 27 at 9 p.m. ET on ABC.