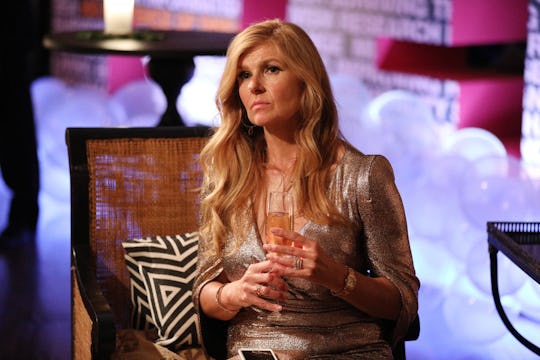 Jordin Althaus/Bravo
Here's What Debra Newell From 'Dirty John' Is Doing Now
Bravo wasted no time adapting the wildly popular true crime podcast Dirty John into a scripted miniseries. The first eight-episode installment premieres just over a year after the podcast first debuted. So viewers tuning into the series inspired by the harrowing events of her life may be wondering: Where is Debra Newell now? Understandably, she has mixed feelings about her family's incredibly traumatizing story being mined for entertainment value.
"This isn't for me right now, it's more so for others," Newell told Variety about the Bravo series and the upcoming documentary Dirty John, The Dirty John Truth, airing on Oxygen early next year. "It was really important to me to get through to other women what could happen for them, and for the ones that it has happened to, to let them know that they're not alone."
Warning! Spoilers for the Dirty John podcast ahead.
For over 35 years, Newell owned her own interior design business, living in a wealthy Orange County neighborhood before meeting John Meehan, a grifter who conned her into renting a $6500 condo with him. The pair eventually eloped, despite her family's deep-seated suspicions of him, and the Newell children's doubts ultimately drove a wedge between them and their mom. She became more and more isolated from the family, until a private investigator hired by her daughters and nephew uncovered the truth about Meehan.
In the final installment of his six-part investigative feature on the case, Los Angeles Times journalist Christopher Goffard gave a sense of where Newell stood last October:
She's close with her kids again. She recently bought her daughters stun guns, pepper spray and rape whistles. They talk every day, sometimes just to say "I love you." She doesn't need a boyfriend or a husband, a year later, and said she has no desire to date. She works constantly.
Newell visited the house where Meehan had been living in Nevada after his death and discovered drug vials, syringes, and a laptop which revealed that he'd been messaging women on three different dating sites on the day they got married. She told Goffard that she felt she was over Meehan, deciding for herself that he must have been "some kind of sociopath." But the struggle of combing back through their relationship trying to figure out what was real and what wasn't continued to torment her. Newell says that her feelings were very real, and that it was difficult to imagine Meehan had been lying every day for months.
Newell, her mother Arlane Hart, and her daughter Terra all attended the Bravo premiere of Dirty John, having consulted with production during the making of the show. In contrast, the family wasn't involved at all with the production of the podcast, aside from doing interviews with Goffard for the series of articles.
"I was hoping this would reach a broader market and be able to help people through [experiences] with this type of man and realize what was out there," Newell told Variety. Dirty John officially premieres on Bravo Nov. 25, but a sneak peek of the series premiere is currently streaming on Bravo's website.
Season 2 of Doula Diaries shares the stories of fearless doulas helping their clients take control of their births and make tough choices that feel right to them. Watch the first episode of the new season Monday, November 26th.