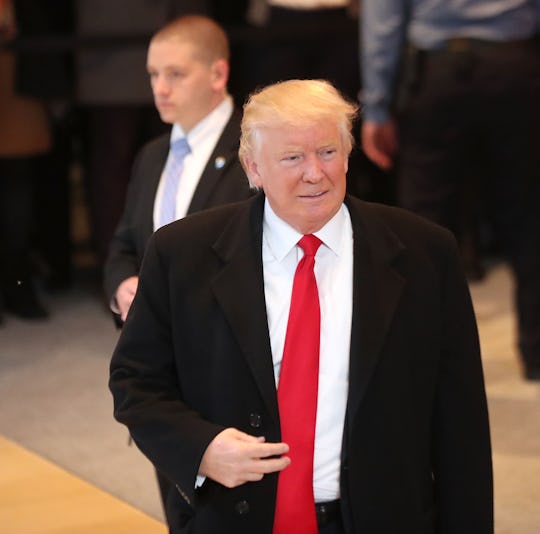 Spencer Platt/Getty Images News/Getty Images
Where Is Donald Trump Celebrating Thanksgiving? He's Following His Own Traditions
President-elect Donald Trump is almost guaranteed to be a conversation topic at Thanksgiving dinners around the country. But while opposing relatives hurl insults and gravy bowls at one another, what will the source of their disagreement be doing for his own holiday? As in the past, Donald Trump will spend Thanksgiving at Mar-A-Lago, his private club in Florida.
Jason Miller, Trump's transition spokesman, told reporters that the president-elect would be adjourning to his club in Palm Beach along with his family like he has for about 20 years, and "hopefully eating some turkey" while the rest of the country glares across the table at relatives they're considering cutting out of their lives. Trump left New York and headed down to Florida on Tuesday afternoon, after a strained midday meeting with journalists from The New York Times, in which Trump appeared to retract many of his campaign promises.
Trump wasn't the only one headed to Florida — he brought along his enormous, now-necessary security detail. Meanwhile, the residents of Palm Beach geared up to greet the arrival of the president-elect with a mixture of excitement, anger, and annoyance at the amount of road closures his presence will cause. The Federal Aviation Administration announced flight restrictions around Mar-a-Lago, for added security, while the Coast Guard also restricted boating in nearby waters.
Mar-a-Lago, which used to belong to heiress Marjorie Merriweather Post and was declared a national landmark in 1980, faces the Atlantic Ocean on one side and Lake Worth on the other. Membership costs $100,000, plus dues of $14,000 a year, and a $2,000 annual food minimum. And about that food — when journalist Caity Weaver visited Mar-a-Lago for GQ earlier in the year, she sampled an unappetizing, $27 macaroni and cheese named after Trump's son Barron, and a cheeseburger she described as "ugh blech blegh." Perhaps the Thanksgiving menu will be better.
Meanwhile, Trump's vice president-elect, Mike Pence, will spend his Thanksgiving in Mississippi, where his Marine lieutenant son is stationed. No word yet on where Hillary Clinton, winner of the election's popular vote by almost 2 million votes, will be eating her turkey, although she was recently spotted at an independent book store in Rhode Island. (She seems to like to read, unlike her former opponent.)
Now that the nation knows where Trump will be spending his Thanksgiving, the most pertinent question seems to be, how often will he sneak away from the table to fire off angry tweets at the cast of Hamilton?