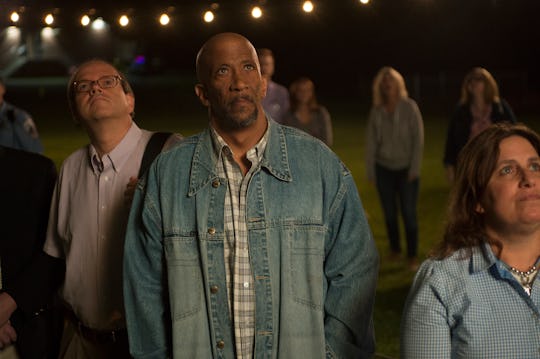 David Giesbrecht/Netflix
Where Is Freddy Hayes On 'House Of Cards' Season 4? Everyone Is Missing Freddy's BBQ
It hasn't even been 24 hours yet since the entire fourth season of the Netflix original series, House of Cards, was made available for streaming online — and yet, plenty of Frank Underwood fans have been streaming all 13 episodes since the full season was made available at 3 a.m. Eastern Friday morning. No matter how far you've made it into season four, there's one very glaringly obvious character missing right now: Where is Freddy on House of Cards?
Freddy Hayes, played by Reg E. Cathey, was the former proprietor and owner of Freddy's BBQ, the hole-in-the-wall D.C. barbecue joint that would close down just for his most important customer: Frank Underwood. It's hard to characterize their relationship as "friends" — let's put them under "it's complicated" for now. In a truly heartbreaking plot twist in season two, Freddy is forced to sell and close his barbecue joint. But all is not lost when Freddy signs up for newly installed President Underwood's "America Works" program, and ends up working as a groundskeeper at the White House. Freddy's journey hasn't been an easy one, and now under the wing of the Underwoods, it certainly won't get any easier if an Underwood relationship is any indication.
One of the things many House of Cards fans have loved about Freddy and Frank's relationship is their candor with one another. They have no problem shootin' the shit, almost as equals — and it's that "almost" that the most important part of the equation, because Frank Underwood is never anyone's equal, as much as he'd have you believe. But their scenes together are always fun to watch, if only for the ridiculous tales that Freddy has to share with Frank, like this scene below (warning, NSFW language):
With Freddy's BBQ long gone, so too are those mouth-watering shots of Freddy's barbecue ribs.
But Freddy isn't all barbecue ribs and crazy stories — he is, quite possibly, one of the most genuine characters in the entire show. In episode eight of season three, Frank invites Freddy to the White House as one of his AmWorks success stories. Freddy brings along his grandson, Deshawn. Stripped of all his pride and dignity, Freddy takes a job in the White House kitchen that will barely pay the bills. Deshawn, still starstruck by meeting the president, confesses he wants to be president one day. Cue the most heartbreaking, sobering moments on House of Cards (again, NFSW language):
Season four is desperately missing Freddy's heavy dose of much-needed realism in a show filled with abundant duplicity. Fans will be happy to know that Cathey does make a single appearance as Freddy towards the end of the season — but that's not enough. We need more Freddy! Thank goodness Netflix has confirmed a fifth season of House of Cards, so here's hoping it comes with more Freddy — and maybe another plate of those ribs, too.