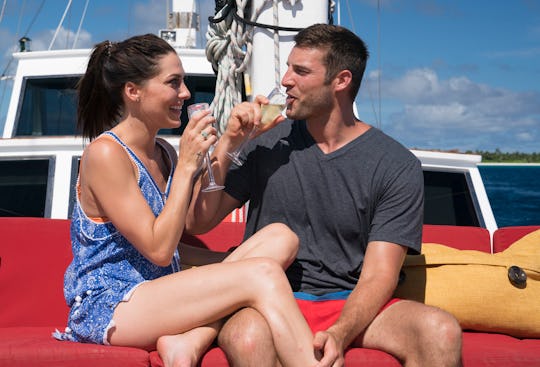 Paul Hebert/ABC
Garrett From 'The Bachelorette' May No Longer Be In Reno
Now that The Bachelorette is nearly over, fans cannot wait to see the finale. It's almost here but, seeing as it was filmed months ago, Becca, Blake, and Garrett have carried on living their lives in the meantime. So, where is Garrett after The Bachelorette? He revealed that he's willing to go anywhere for Becca.
As far as fans know, Garrett is currently still in Reno like he was before the show. Unfortunately, Garrett wasn't at the "Men Tell All" special because he's still on the show and that special is just for the guys that Becca has already booted. So fans aren't able to keep up with him as easily as those no longer on the show. From Garrett's Instagram, though, Bachelor Nation can tell that he's been supporting his Bachelorette buddy Colton and attending friends' weddings in places like Oregon.
It's all pretty tame stuff, and of course Garrett would never let on if Becca is secretly there with him. While Garrett is currently based in Reno, Nevada, he did reveal during his fantasy suite date that with his job (medical sales), he'd be able to go anywhere — and would for Becca's career. As of right now, though, there's no indication of a move from either Garrett or Becca.
Of course, no analysis of where Garrett is complete (unfortunately) without the discussion of the Instagram controversy earlier this season. By now Bachelor Nation knows what went down. It was discovered that Garrett had "liked" several offensive misogynistic and racist Instagram photos, as well as one that claimed a Parkland shooting survivor was a crisis actor. Becca didn't condemn Garrett like I thought she would. As Refinery29 pointed out, Becca is a liberal and probably doesn't jive with the offensive posts Garrett was liking.
Soon after the premiere, in an interview with E!, Becca responded to the Garrett controversy by saying, "I've just been so busy traveling around the country with press that I haven't really been able to read too much up on it." She continued, "But everyone is entitled to their own opinions, and at the end of the day I wanted to go on this journey to open up myself and have people see my love story unfold and I would hope that they would stay open and respect me but also stay open and respect these 28 guys that went along on the journey with me."
Becca's right, everyone is "entitled to their own opinions" so here's mine: that was very awful of Garrett to do! But she didn't call him out on it, which prompting some members of Bachelor Nation to speculate that Garrett is the winner this season and is currently hiding their relationship until after the finale. Some have compared Garrett to Lee Garrett (not related) from Rachel Linsday's season of The Bachelorette. Lee tweeted racist and sexist things — and Rachel criticized him for it.
So, is Garrett currently with Becca, playing board games and making homemade pizza and whatever else Bachelorette couples have to do while in hiding before the finale? I don't know, but some fans make a strong case for it. Whatever the answer is, fans will find out soon enough during the finale. I hope on After the Final Rose viewers hear Garrett's side of this controversy as well as where he is currently. I hope, no matter if he's engaged to Becca or not, that he's learned from this entire experience — Instagram likes and all.